Poor workmanship blamed for structural defects at three schools as DfE alerts other government departments
The government is launching an investigation into collapsed contractor Caledonian Modular following the closure of three schools due to structural safety concerns.
Haygrove School in Somerset, Sir Frederick Gibberd College in Essex and Buckton Fields Primary School in Northampton have all been advised not to reopen for the autumn term.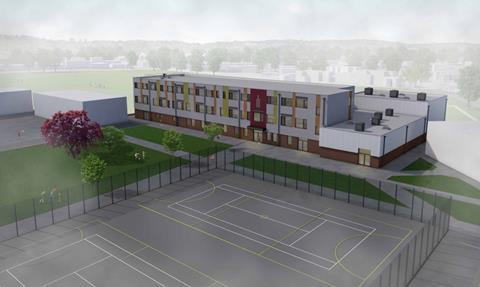 Technical surveys of the schools found issues with the structural integrity of the buildings which the Department of Education (DfE) blames on poor workmanship.
It said the issues weakened the ability of the buildings, which were all built using modular units, to withstand adverse events such as very high winds or significant snowfall.
The DfE is now reviewing its contracts to identify where Caledonian Modular may have been involved and has alerted other government departments to the issue.
The contractor built all three schools between 2020 and 2021 through the government's £3bn modular schools framework before the firm went into administration in 2022 and was later bought by concrete frame specialist JRL Group.
Technical assessments of the schools were ordered when defects were discovered after the firm's collapse at two partially built Caledonian Modular schools in Cornwall, which are understood to have raised significant concerns. Both Cornwall schools have since been demolished.
The subsequent surveys of the three completed schools found numerous problems, with the most serious said to be the structural and fire safety of the buildings.
The DfE added that the schools, two of which were designed by HLM and the primary school by Stride Treglown, had not been built in accordance with the design so could not be assured as safe to occupy.
The department said it is working with its technical advisors on a strategy to either repair or replace the buildings and will share more information as soon as possible.
A DfE spokesperson said: "Nothing is more important than the health and safety of pupils and teachers, which is why we assess school buildings regularly to make sure they meet our high standards.
"Following surveys conducted at our request, we have identified concerns with building work carried out by a specific contractor that is no longer in business.
"We are working closely with school leaders on temporary measures to safely accommodate pupils and minimise the disruption to their learning."
The department added that face-to-face learning will be available for students at all schools from the beginning of September. The 630-place Sir Frederick Gibberd College had previously said that its autumn term would start later than planned while staff arrange plans for how teaching will be delivered.
The 1,200-place Haygrove school said yesterday that the DfE had promised to build "high-quality temporary accommodation" on the school site as soon as possible, but had given no clarification on when this would be provided or on long term plans for the main building .
The trust which operates the 50-place Buckton Fields Primary School has said that a temporary building will be put in place by October while inspections and repairs take place on the existing building.
JRL Group, HLM and Stride Treglown have all been contacted for comment.