Architect responded to call from French authorities
Gensler has revealed its proposals for a temporary chapel beside Notre-Dame to allow Parisians to worship while the cathedral is restored.
The structure would be constructed partly from charred timber and include rotating panels at ground level so the intimate chapel could be opened to the outside world for use as a marketplace or performance space.
Work to return the cathedral to full operational use is expected to take years after April's devastating blaze destroyed the roof and spire.
Gensler was responding to a call by the mayor of Paris and cathedral authorities for ideas for a temporary structure to bring citizens and worshippers together.
If commissioned, Gensler's concept would stand in the 850-year-old cathedral's Parvis Square and act as a nave. It replicates the cathedral's dimensions to ensure familiarity, said Duncan Swinhoe, the architect's regional managing principal.
"It is important that the design is true to, but doesn't upstage, the cathedral," he added.
"We wanted to strike a balance between a structure that invites the community yet can be transformed to become a reflective and spiritual haven when mass is celebrated. We hope this offers the people of Paris, and the world, a statement of hope and rebirth."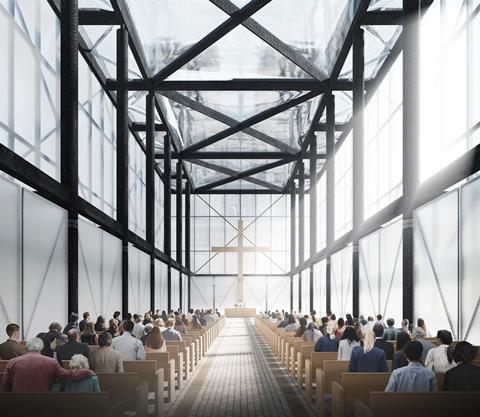 With a roof of ETFE cushions and walls made from translucent polycarbonate the space would be "flooded" with natural light, emphasising its ethereal quality of the space while creating visual relief, he said.
The charred timbers would give it a structural rhythm reminiscent of the Gothic cathedral, which would be visible through movable panels behind the altar.
"Charred timber, which is one of the oldest and most effective methods of protecting wood from fire, also symbolises that what once destroyed Notre-Dame will only serve to make it stronger, thus expressing a language of rebirth and transformation," said Swinhoe.
"Our focus has always been about supporting the community in this time of loss, giving them a place to reflect and pause. We've come together as a firm and donated our time to this project that's close to our hearts. And although we're still very much in the conceptual stage we'd be honored to continue to donate our time and expertise and would welcome the opportunity to discuss our design in more detail with the Bishop Patrick Chauvet and the relevant authorities."
Meanwhile, US architect SB Architects unveiled a speculative design concept for the lost spire at Notre-Dame.
Its proposal, La Rose, was created in response to French prime minister Édouard Philippe's announcement of a contest for a new spire design.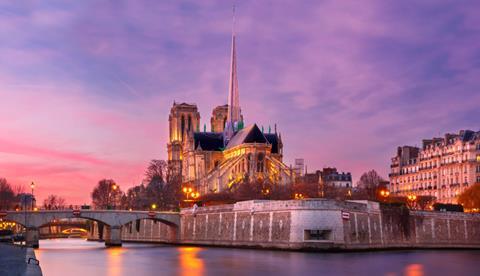 Cooper Copetas, a Parisian-born designer at SB Architects' Miami office, said the project, which involves a steel structure and cone of frosted glass bricks, would filter a scattered beam of light throughout the nave.
Glazed blue-toned ceramic tiles pay homage to the ceramic façades and roofs common to buildings built between the 1850s and 1920s in the region of Ile-de-France.
Copetas said: "It's our aim to create something expressive but disciplined through parametric design methodology. The humbly integrated design may be geometrically complex but, without veering into overly elaborate territory, resolutely unique without unnecessary ostentation."
He added: "Through a deep understanding of Romanesque and Gothic architecture, the author of the cathedral's original spire would also invent, on paper, an architectural language that re-interprets these 12th-century motifs. This gift for invention coupled with his adoption of iron structures allowed him to stretch Middle Age cathedral proportions into a whole new style; indeed, this innovation made Viollet-le-Duc the father of art nouveau, a design type unique to Paris."