First pictures of 19th annual commission under construction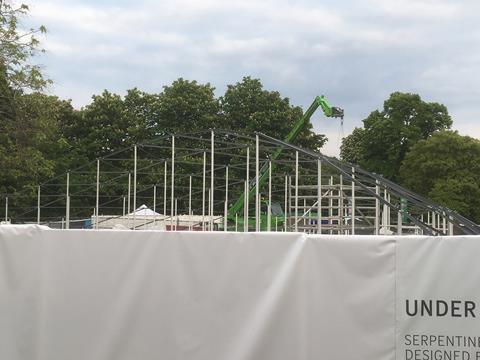 Junya Ishigami's Serpentine Pavilion is taking shape in Kensington Gardens.
The 19th in the annual series of temporary structures, which began with a Zaha Hadid commission in 2000, is due to open on June 21.
It will remain open until October 6 and is set to host a series of parties, talks and debates throughout the summer, as well as the customary café.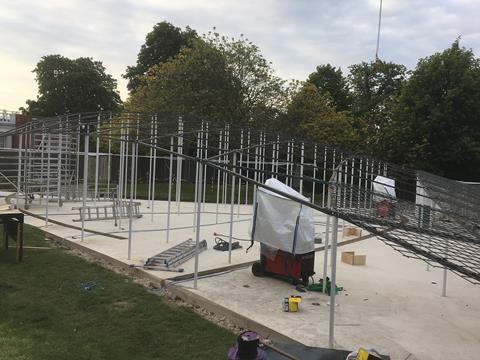 The pavilion is the Japanese architect's first built project in the UK and sparked controversy when the designer Adam Nathaniel Furman exposed the fact that Ishigami had a policy of not paying his interns. The Serpentine Gallery has since forced the architect to pay any interns working on the project.
Ishigami has described his design as resembling a hill made out of rocks and "playing with perspectives of the built environment against the backdrop of a natural landscape".
"Possessing the weighty presence of slate roofs seen around the world, and simultaneously appearing so light it could blow away in the breeze, the cluster of scattered rock levitates, like a billowing piece of fabric," he said.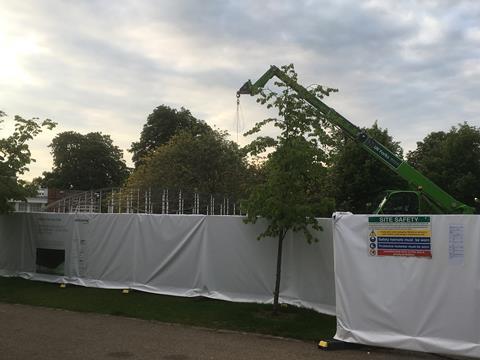 He hopes visitors will imagine it has grown organically out of the Serpentine lawn.
"This is an attempt to supplement traditional architecture with modern methodologies and concepts, to create in this place an expanse of scenery like never seen before," he added.
Ishigami, 45, worked as an architect at Sanaa before founding Junya Ishigami & Associates in 2004.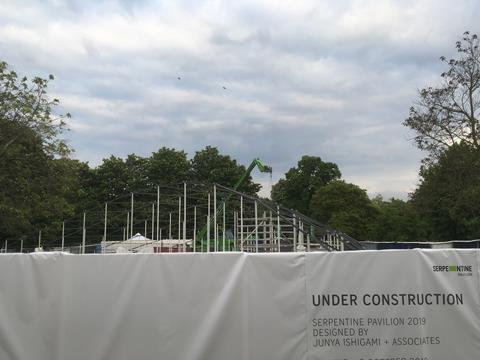 Recent architects have included Frida Escobeda of Mexico last year, Francis Kéré of Burkina Faso in 2017 and Bjarke Ingels of Denmark, whose 2016 pavilion was the most visited architectural and design exhibition in the world. Sanaa designed the 2009 pavilion.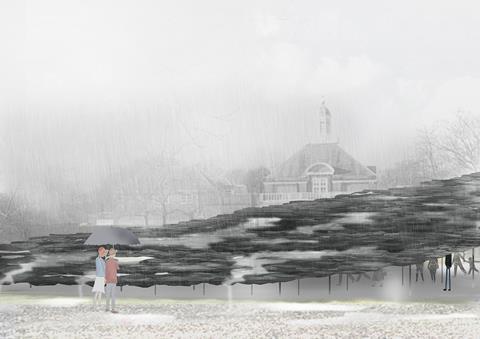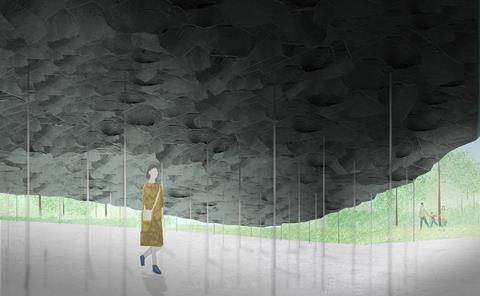 Meanwhile, Danish artist Jakob Kudsk Steensen has beaten 350 entries to win the Serpentine's inaugural Augmented Architecture competition.
The gallery launched a global open call in February for "complex or unbuildable structures which imagine new futures of the city and possibilities of the urban landscape".
Kudsk Steensen's spatial exploration in augmented reality will explore links between air pollutants, trees and declining bird and insect populations in parks and across London.
Visitors will be able to experience it alongside Ishigami's pavilion.