Shops and offices will be built above Liverpool Street station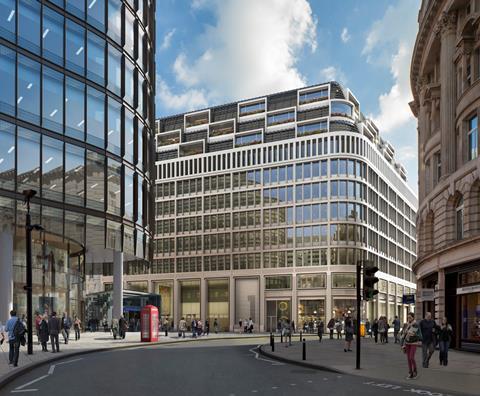 Plans for a nine-storey Eric Parry scheme above a Crossrail station in the City of London have taken a significant step forward.
Transport for London inked a deal with Aviva for the overstation development at Liverpool Street station.
It is one of 12 developments TfL is planning above and around Crossrail sites.
Subject to planning approval, the building will contain 175,000sq ft of lettable office and retail space at the eastern station entrance at 1 Liverpool Street.
Aviva's head of development James Stevens said: "This is undoubtably one of the best development sites in the City of London."
TfL and Aviva have already signed an agreement to develop a site at 101 Moorgate, which will be at the station's new western entrance.
That scheme, designed by John Robertson Architects, will comprise six floors of office space above the Moorgate Crossrail shaft, with retail at ground level.
Other buildings set to be built above Crossrail stations include a £50m office block designed by PLP above Bond Street and a £195m scheme above Tottenham Court Road by AHMM called Soho Place.