Timber structure intended to become home for sustainable lifestyle brands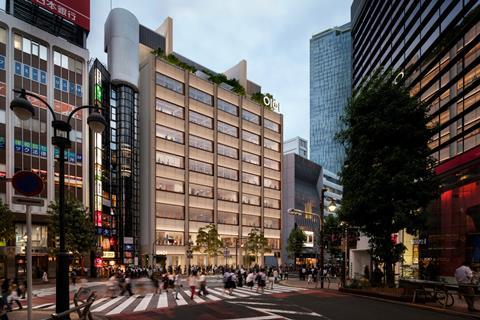 Foster & Partners has unveiled its designs for a nine-storey department store in central Tokyo.
The Marui Department Store will be located next to the world famous Shibuya Crossing in the heart of the Japanese capital's commercial district.
The largely timber structure is being billed as a showcase for sustainable construction and is intended to become a home for brands which prioritise sustainability.
It features a timber balustrade cladding which has been designed to reduce solar gain, while the building's energy will be provided by renewables and on-site photovoltaic panels.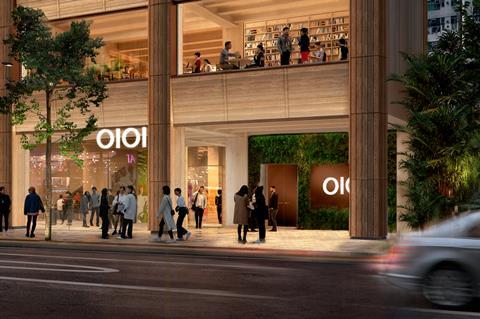 The top level cafe and restaurant also contains a planted roof garden which could be transformed into an urban food farm, according to the architect.
Foster + Partners senior executive partner David Summerfield, said the practice was delighted to be working on the "ground-breaking" project, adding that the scheme's timber structure would reduce embodied carbon while creating a "warm and open experience for visitors".'
Inspired by traditional Japanese construction techniques, the building features landscaped bamboo walkways and green walls leading to the store's main entrance.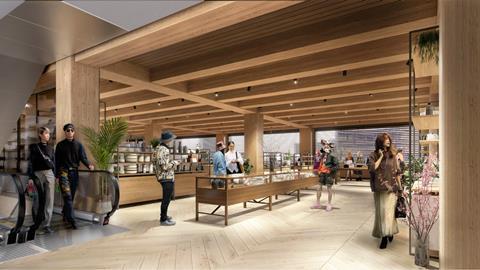 The timber frame is also supported by a steel structure which Fosters said will enhance the building's seismic performance in a region prone to earthquakes.
Last month, PLP revealed plans for a huge 1.1 million sq ft development in central Tokyo that would see the construction of four towers for a consortium of ten Japanese firms including Nippon and Mitsui Fudosan.
Earlier this year, Fosters was appointed to masterplan a high-rise district in Ho Chi Minh City, Vietnam, including social housing, schools and a 125,000sq m shopping mall.
The practice also completed an art museum in Datong, China, as part of a new cultural district in the city.