Project presented at COP26 as a case study for how design choices can reduce operational carbon emissions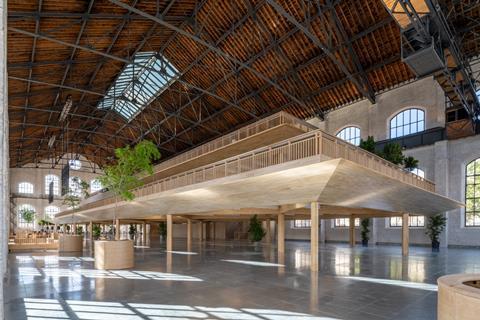 A Foster & Partners-designed office refurbishment in Madrid that was presented at COP26 as a case study for sustainability has opened its doors.
The practice said that the scheme, designed for Spanish energy firm Acciona, is one of the greenest it has ever designed.
Known as Ombú, it was used by the World Green Building Council (WGBC) at last year's climate conference in Glasgow to demonstrate how design choices can reduce a building's operational carbon emissions during its lifetime.
The project, which provides 10,000sq m of new office space within and around the refurbished shell of a historic industrial building in the Spanish capital, is expected to use 35% less operational energy than a traditional building of similar size.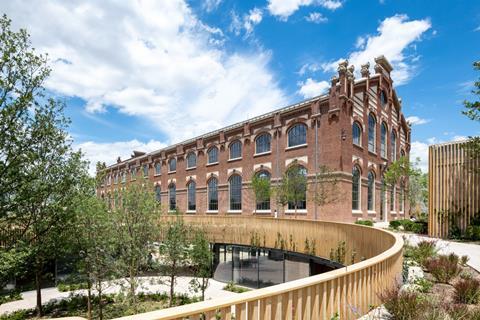 The original building, designed by architect Luis de Landecho and built in 1905, once supplied energy to surrounding areas but later fell into misuse and was acquired by Acciona in 2017.
Inside, Fosters has built a lightweight two-storey structure made from locally sourced timber with a skylight above to reduce the need for artificial lighting.
The project has also made use of Madrid's warm climate by including spaces designed for outdoor working, including a courtyard and a 12,400sq m park featuring workspaces and meeting areas sheltered by a canopy of trees.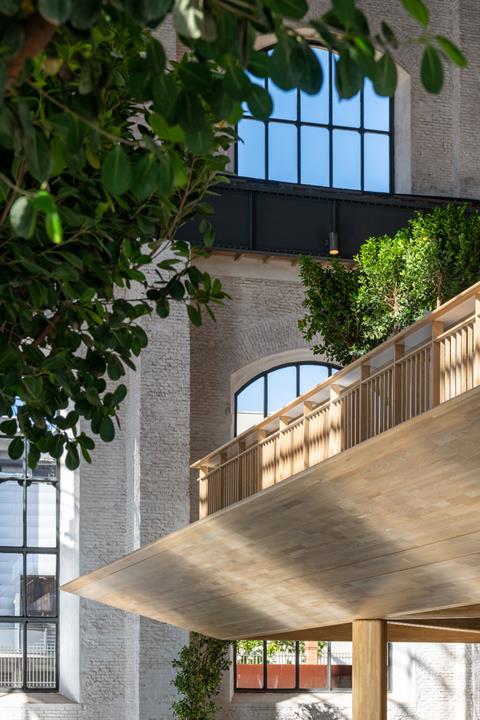 Practice founder Norman Foster said: "Ombú brings an industrial wasteland back to a new garden in the city.
"Madrid's benign climate allows workspaces to be outside as well as inside, creating a flexible and desirable lifestyle.
"Natural materials are brought into the existing building, contributing to biophilic spaces that are good for wellbeing and productivity."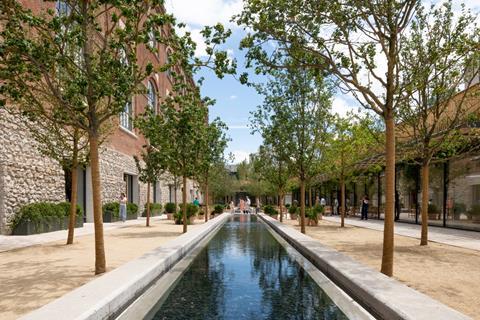 Taba Rasti, senior partner and co-head of the practice's Madrid studio, added: "The new design retains and enhances the original masonry structure, while upgrading other aspects of the building and extending its life by introducing new flexible workspaces - giving it a sustainable legacy for years to come."
The former industrial building also extends into the adjoining Mendez Alvaro station, meaning that workers can travel directly to the office without driving.
In its COP26 presentation on the scheme, the WGBC highlighted the decision to remove a basement car park and optimising access to the train station as design choices which would minimise carbon emissions over the lifetime of the office.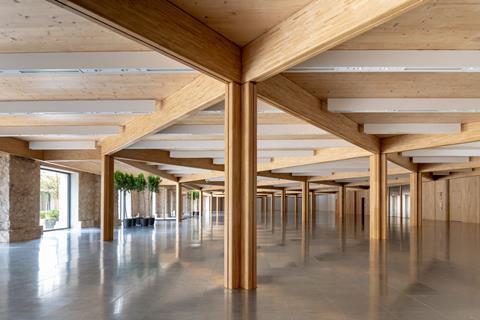 The preservation of the industrial building will also save more than 10,000 tonnes of brick, according to Fosters, with the whole scheme calculated to have reduced embodied carbon - emitted by the production and use of materials - by 25% compared to a new build project.
Last week, proposals to limit embodied carbon in the UK by amending building regulations were reintroduced to parliament by Conservative MP Jerome Mayhew.
The plans would see mandatory limits placed on embodied carbon at the design stage of projects for non-residential projects in 2023 and for residential projects in 2025.