Other practices in the running for this weekend's 'Barkitecture' competition include Hopkins and Stanton Williams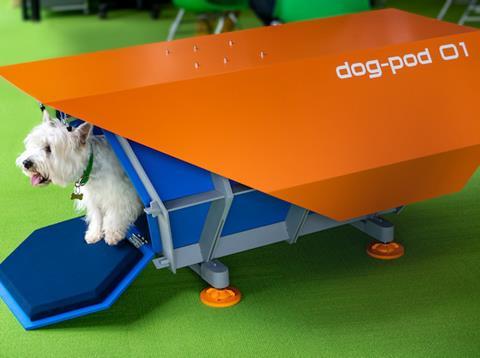 Some of the UK's biggest architects and designers are battling it out this weekend to win a competition to design a dog kennel.
Foster & Partners' geodesic 'Dome-Home' and Roger Stirk Harbour & Partners' 'Dog Pod' are among 16 designs entered for the Barkitecture competition, part of the inaugural Goodwoof festival being held at Goodwood House in West Sussex.
A judging panel including Grand Designs presenter Kevin McCloud, comedian Bill Bailey, art critic Stephen Bayley and James Middleton, brother of Duchess of Cambridge Kate Middleton, will decide a winner on Sunday.
Other practices in the running include Hopkins Architects, Stanton Williams, Hawkes Architecture, Lincoln Miles Architecture, Henning Stummel Architects, and Haysom Ward Miller Architects.
British designer Jony Ive, Apple's former chief design officer, has also thrown himself into the fray with a kennel designed in collaboration with designer Marc Newsom, also a former senior designer at the tech giant.
A winner will be announced on Sunday afternoon, followed by a live auction of the shortlisted finalists held by Bonhams with all proceeds to be donated to the Dog's Trust.
Dogs of "all shapes and sizes" will take over the grounds of the grade I-listed Goodwood House, according to the organisers. The festival was originally due to be held in 2020 but was pushed back twice due to the pandemic.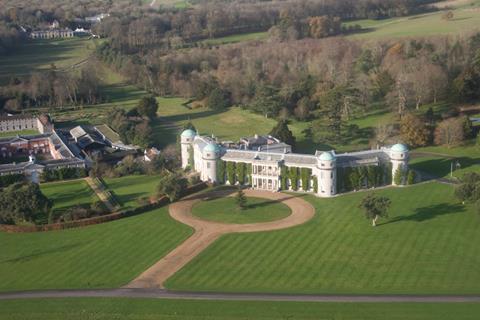 Norman Foster said he was "delighted" to be involved in the event. The Foster & Partners founder was personally involved in designing the practice's entry, a Buckminster Fuller-inspired geodesic dome which is billed as "reimagining canine luxury".
"The Dome-Home features a geodesic shell structure – it is like architecture in miniature," Foster said.
The "snug and practical" cherry wood kennel, which is estimated to sell for up to £3,500, has been designed by furniture maker Benchmark and features a removable padded fabric interior.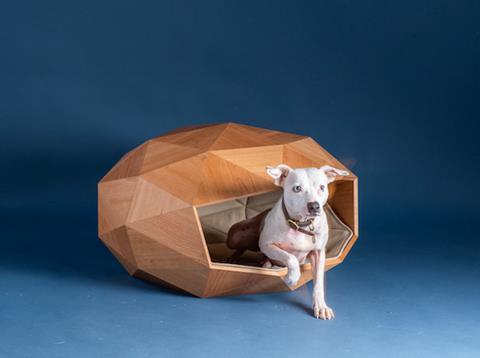 RSHP's "space-age" submission, inspired by the designer's love of Star Wars, features lunar landing pad feet which enable the "unit" to be raised off the ground during cold weather whilst allowing air circulation on warmer days, Goodwoof said.
The kennel, which is estimated to sell for up to £3,000, has a hexagon shaped entrance door that can be lowered to form a star ship-style "boarding ramp", and an aluminium canopy - separated from the main structure to allow dissipation of solar heat gain - which slides forward to create a shaded "alfresco dining area".
Hopkins' Bauhaus-inspired kennel, 'Le Dogular', explores what modernist prioneers such as Le Corbusier would have created for their four-legged companions.
Prioritising a zero-waste aesthetic, the clean lines and harmonic proportions of the plywood home - estimated to sell for between £1,300 and £1,800 - celebrate the spirit of the modernist age, Goodwoof's description of the entry says.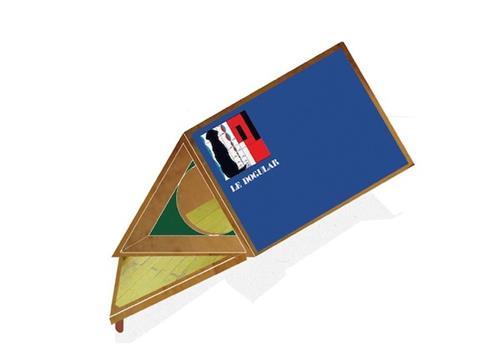 Stanton Williams' Latvian plywood entry, estimated to sell for up to £2,000, has been designed for the "contemporary city dweller" short on square footage and where "every millimetre counts".
'The Nook', which combines a kennel, an arm chair and a side table, "unites parent and pet in quiet contemplation" and features a secret window for snacks to be passed through.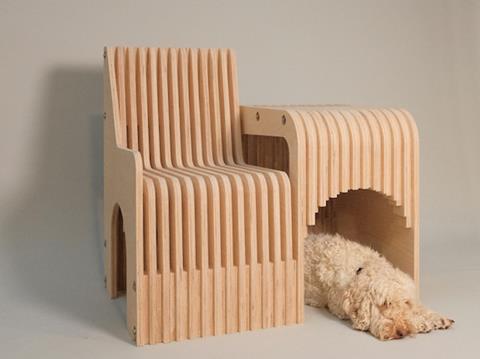 Ive and Newson's entry, which is based on the minimalist 'home' symbol used on various tech devices, is a "statement piece for hounds with an eye for modern industrial design", the Goodwoof organisers said.
Called 'Love From', the same name given to the duo's recently created design firm, it features the designers' trademark softened edges and smooth geometric lines and is estimated to sell for up to £3,500.
Other events at the festival will include talks and demonstrations from dog experts, with the grounds also hosting wellbeing areas for dogs offering a range of nutritional and holistic treatments.