Jack Pringle launches Studio Pringle after leaving Perkins & Will
Former RIBA president Jack Pringle has launched a new practice with two of his daughters after quitting Perkins & Will last summer following eight years at the firm.
Pringle's new business officially gets up and running today and is called Studio Pringle. Joining their 69-year-old father will be Maxine, 36, and Frankie, 33.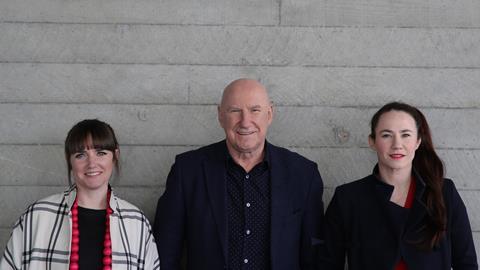 Maxine graduated from the Bartlett in 2010 and for the past decade has worked at All Design, the firm co-founded by the late Will Alsop, where she was an associate director.
Her younger sister Frankie, 33, also graduated from the Bartlett and worked with her father at Perkins & Will before moving out of architecture to work at shared office provider WeWork.
Pringle, who was RIBA president between 2005 and 2007, said the firm was looking to grow to around 20 staff by the end of next year which would give it a turnover of around £2m.
He added: "We're not setting up a little boutique family practice. We are ambitious and want to scale numbers."
Studio Pringle is initially targeting jobs in the housing, hotels and workspace sectors and Pringle said the practice has already secured work.
Pringle said the three will initially work out of their homes, meeting up in WeWork space at Waterloo before committing to an office most likely in Victoria.
Pringle said it was he who had suggested setting up a practice with his daughters. "They felt it was the right stage of their careers to make the jump. We've had some very positive reaction from potential clients," he added.
"The market is getting ready to take off [after lockdown]. The UK business environment is full of ambitious and impatient people who want to get on. There is a wall of money out there."
Pringle co-founded Pringle Brandon with Chris Brandon in 1986 before selling the business to US firm Perkins & Will in 2012. Both left in August. Pringle said: "I left on very good terms but I wanted to do other things."
Pringle said he was still looking after a couple of overseas commercial projects for the firm in Madrid and Brussels.