Eric Pickles gets number of victims wrong in tense exchanges with Grenfell QC
Former Cabinet minister Eric Pickles has denied being "spectacularly out of touch" with his own department on building regulations policy.
Pickles told yesterday's hearing of the Grenfell Inquiry that the suggestion from lead counsel Richard Millett QC was "unjust" because he had been "utterly reliant" on receiving intelligence from his officials.
The former minister, who was secretary of state at the Department of Communities and Local Government between 2010 and 2015, also incorrectly said there were 96 "nameless" victims of the Grenfell Tower fire when there were 72 and all had been named.
The hearing focused on the department's efforts to reform fire safety guidance, which Pickles insisted had been exempt from a policy of deregulation.
This was despite being shown an internal impact assessment stating that Approved Document B, the part of building regulations dealing with fire safety, was "in scope" of the government-wide drive to cut red tape.
Pickles said he had not seen the assessment, produced in December 2012, and it was "not something he would have seen".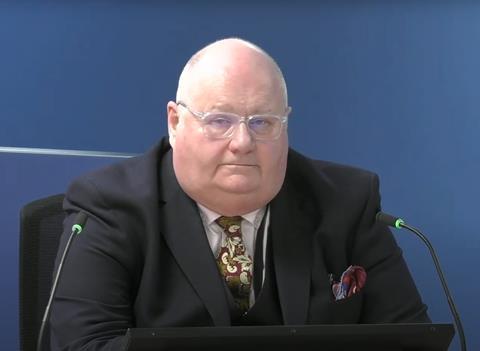 Asked by inquiry chair Martin Moore-Bick if the assessment showed that the building regulations were not exempt from deregulation policies, Pickles said: "I don't think it was ever envisaged that we would hold [building regulations] in stasis and we would make no changes whatsoever."
Four officials working on fire safety guidance in the department have told the inquiry that toughening up building regulations in the years before the Grenfell Tower fire was made more difficult by a government policy launched in 2011 called the 'red tape challenge'.
This restricted departments to removing as much legislation as was added under a 'one in, one out' policy, which by 2016 had been increased to 'one in, three out'.
Under Pickles, the housing department was also carrying out a wide-ranging review of building regulations following the 2009 Lakanal House fire, which had killed six people when flames had spread rapidly across the 14-storey building's combustible cladding panels.
This review had been repeatedly delayed, which the inquiry has heard was partly because of the difficulty in amending the regulations within the restrictions of the deregulation agenda.
Almost no progress on the review had been made by the time of the Grenfell Tower in June 2017, and the regulations were not changed until December 2018, nearly 10 years after the Lakanal House Fire.
The combustible cladding used in the flawed refurbishment of Grenfell Tower was specified in autumn 2014, when the review had already been underway for more than a year.
Millett asked Pickles if he was able to explain how he had not been aware at the time that his officials had thought that fire safety guidance was subject to deregulatory policies given that the former minister claimed that they had been exempt.
"I find it utterly inexplicable, I am genuinely amazed," Pickles said, adding: "I find it extraordinary that that situation could have existed and that's why I think we have to put it in terms of my genuine worry about the line management and the general wellbeing of those employees."
"One explanation, Lord Pickles, is that you were spectacularly out of touch with what was happening in your department", Millett said.
"I think that would be uncharacteristically unjust of you to say that, because I think you need to bear an understanding that this is an enormous department, and that I am utterly reliant on receiving good intelligence from my [officials]," Pickles said.
Asked why he thought officials had been "labouring under, as you would have it here, a misapprehension", Pickles said: "I was quite surprised how political they were. They were making assumptions."
"There is, Lord Pickles, of course, another explanation," Millett said. "Which is that, in fact, your department was always subject…to the deregulatory agenda, and you're now seeking to recast that narrative and to underplay what was in truth an enthusiasm by your government for a deregulatory agenda which led to a complete absence of proper checks and balances so far as concerns life safety."
Pickles said this was "unkind", adding: "Without getting terribly emotional, I swore on the bloody Bible. I'm a Christian. I wouldn't come here to… try and just remove responsibility. These things are important to me."
Earlier, Pickles had implied that the inquiry should not waste his time because he had an "extremely busy day" planned.
Pickles had only been scheduled to appear at the inquiry during the morning but the session overran into the afternoon.
During a tense exchange over an internal departmental email, he told Millett: "Could I respectfully remind you that you did promise that we would be away this morning and I have changed my schedules to fit this in, I do have an extremely busy day meeting people…but I would urge you to use your time wisely."
Pickles later apologised for being "discourteous", to which Moore-Bick replied by saying he was "sorry that we're going to interfere with your programme for the afternoon".
In his closing statements, Pickles said that taking a different approach to the building regulations review "would [not] have made any difference whatsoever" because there had been a "mindset that existed in parts of the department that just simply ignored what was happening".
He added that it ultimately came down to the "nameless, I think it was 96 people who were killed in the Grenfell fire. It's them we should think about when we're arguing the toss."
Responding to the comments, bereaved and survivors group Grenfell United said: "We are speechless. How dare he refer to our loved ones we lost that night as 'the 96 nameless'. 72 people died in Grenfell and none of them were nameless."
The group called for Pickles to be removed from the government and from the house of Lords, adding that he had showed at the hearing "the same indifference and carelessness to public safety he's always had".
Pickles stepped down as an MP in the 2017 general election but was made a life peer in 2018. He currently serves as the UK's special envoy for post-holocaust issues, a role he was appointed to in 2015.
The inquiry continues.