Flats to be built on the banks of the River Avon will be up to 17 storeys tall
A Bristol housing scheme designed by Feilden Clegg Bradley Studios as part of a wider regeneration scheme has won planning.
The multimillion pound development by Hadley Property Group for 152 apartments will be built across three blocks of three, five and 17 storeys.
The scheme, on a brownfield site by the River Avon, will be part of a revamp of the Bristol Temple Meads Enterprise Zone and will feature "substantially above the 20% of affordable housing stipulated in the Section 106 agreement", according to FCBS.
A further 10% could be added via the injection of grant funding from Bristol council, while the joint venture between the pair and a yet-to-be-named housing association could take the affordable level to 50%, the architect said.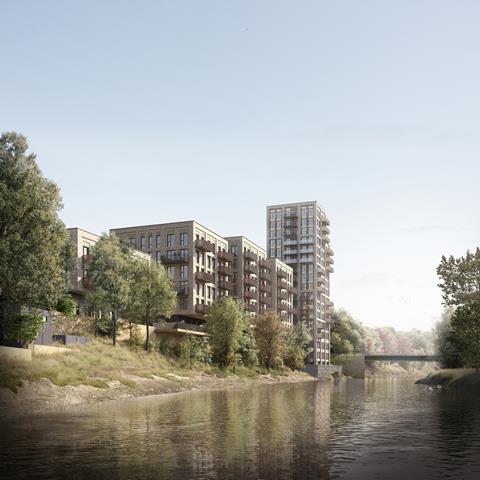 The affordable homes will be divided between shared ownership and affordable rented units. The development will also feature commercial office space and retail outlets.
Jason Cornish, a partner at Feilden Clegg Bradley, said: "The delivery of the project will ensure a currently dilapidated site is transformed to provide much-needed affordable housing.
"The design provides a significantly improved public realm with links to the river and allowance for future pedestrian links to adjacent sites."