Raphael Court refresh will mark 500 years since Renaissance artist's death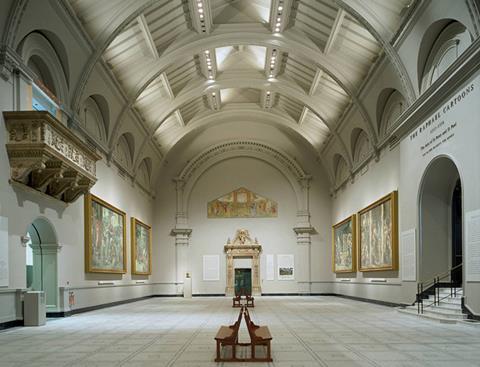 The Victoria & Albert Museum has appointed Feilden Clegg Bradley Studios to mastermind the refurbishment of its Raphael Court gallery, which houses the Renaissance artist's cartoons.
Museum bosses said the project would start on-site in January for completion in "late 2020" – marking 500 years since Raphael's death at the age of 37 in 1520.
The V&A said FCBS would be the "3D designers for the refurbishment", while Studio ZNA would create an LED lighting scheme that would reduce reflections on the glass and boost visibility of the works, which are on loan from the Queen's Royal Collection.
The cartoons, which each measure around 5m by 3.5m, depict scenes from the lives of St Peter and St Paul. They were created in 1515 as blueprints for tapestries destined for the Sistine Chapel, and seven of the original 10 were brought to England in the 17th century by the future Charles I.
Raphael Project lead curator Dr Ana Debenedetti said Raphael Court was almost identical in proportion to the Sistine Chapel and the refurbishment project would deliver new furniture and digital interpretation for the cartoons, following an extensive photography exercise that included infra-red imaging.
"The set of seven surviving tapestry cartoons by Raphael comprise a unique Renaissance treasure, both in terms of aesthetic value and technical achievement," she said.
"The new pioneering photography project will provide the means to visually reveal the hidden process behind the making of the cartoons, from the extraordinary assemblages of nearly 200 sheets of paper to the underdrawing and final painting stage.
"The outcome is one of the greatest examples of artistic collaboration and team work executed by a number of highly gifted assistants, which would not be possible without the guidance of such a visionary mind as Raphael's."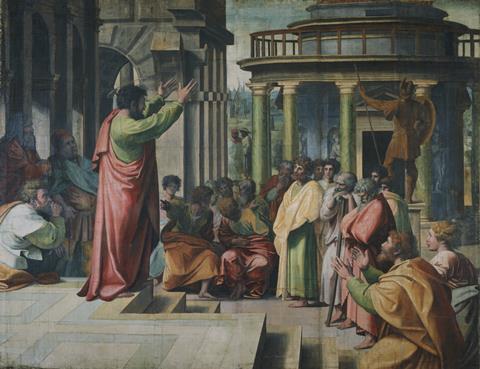 FCBS associate Matt Somerville said that while the physical impacts of the scheme on the the V&A's grade I-listed interior would be "minimal", the visibility and presentation of Raphael's cartoons would be transformed.
"There is so much more to tell visitors about these cultural treasures, but that is first dependent on them being brought to the forefront of a re-worked gallery," he said.
"The Raphael Court presents a change of pace within the busy museum, and our proposals will emphasise this to create a quieter, more contemplative interior where the cartoons are given the space they need, both physically and intellectually."
The V&A said the refreshed gallery would explore the significance and status of the cartoons, the ingenuity of Raphael and his workshop, and rescue, life and status of the cartoons in England.