Project has 11 year build programme with first homes completed at end of decade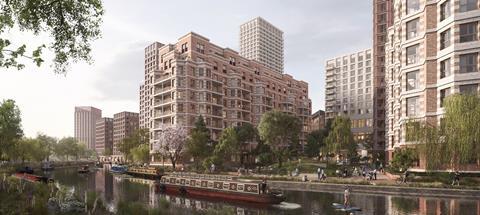 Developer Ballymore and retailer Sainsbury's have submitted a planning application for a joint venture development in Kensington and Chelsea.
The development will deliver 2,519 new homes, including at least 500 affordable homes, two parks and 90,000 sq ft of high street shops, cafes and restaurants, as well as a new 130,000 sq ft Sainsbury's supermarket.
The proposed scheme would be constructed on a brownfield site, Kensal Canalside, which has already been allocated for development by the Royal Borough of Kensington and Chelsea (RBKC). In addition, it is one of 47 opportunity areas designated in the Mayor's London Plan.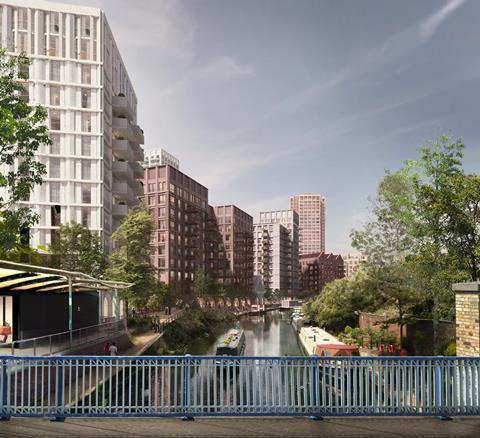 London Plan opportunity areas are locations identified as having potential for new homes, jobs and infrastructure.
The 19-acre site is one of the largest remaining brownfield sites in RBKC.
The site is currently occupied by Sainsbury's Ladbroke Grove supermarket, a scrap metal processing facility and a former gasworks, which was closed off to the public over 40 years ago.
In July 2021, Sainsbury's agreed a deal with Ballymore to bring forward proposals to develop the site.
The masterplan for the scheme has been developed by FaulknerBrowns Architects over the past three years.
Landscape architecture practice, Spacehub, has designed the parks and play spaces.
If granted planning permission, Ballymore will begin the 11-year construction programme in 2025 and the first homes will be delivered in 2030, along with the new Sainsbury's supermarket.
Ben Sykes, partner at Faulkner Browns Architects, said: "The masterplan is inspired by its characterful setting, where Ladbroke Grove meets the sweeping Grand Union Canal and the open space at Kensal Green. In response, our design has been built around public spaces, including a restored canal basin, play spaces and adding gardens and groves to the borough, to create a series of smaller neighbourhoods with a rich mix of uses and a strong sense of personality and place.
"We are delighted to see the proposals submitted, after working with local residents, the local council, Ballymore, Sainsbury's and the entire project team for almost four years, to research, design and develop the masterplan."