Newcastle firm JDDK appointed to deliver package of improvements to grade II* estate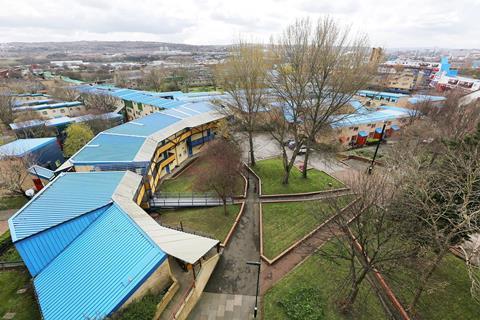 Newcastle-based JDDK Architects has been appointed to deliver a £4m project to upgrade the city's grade II*-listed Byker Wall estate, designed by Ralph Erskine.
The firm was picked from six shortlisted teams in a competitive tender process for the Byker Community Trust (BCT). The process also included meeting a steering group of residents to discuss a pilot project for the 600-plus home estate.
BCT said that the upgrade work, which will aim to boost the setting of the homes – delivered between the late 1960s and early 1980s, would complete investment promises linked to the official transfer of the estate from Newcastle City Council.
JDDK director Nicky Watson said the practice had long-standing connections with Byker Wall.
"We're obviously delighted to have been appointed and to be returning to work in the Byker estate, an environment we're very familiar with having worked on the refurbishment of some of the original 'hobby rooms' into modern living spaces in 2015," she said.
"In addition, Gerry Kemp, consultant to our landscape architect partners, Glenkemp, actually worked with Ralph Erskine on the original scheme in the late 1970s and was one of the co-authors of A Byker Future, the conservation plan for the Byker redevelopment."
Watson said JDDK's designs for the pilot area had concentrated on external landscaping for the estate, the creation of more private streets, new seating and play areas, and the delivery of better meeting places for residents.
"The designs also include refurbishing steps with handrails and buggy ramps and the increase of parking provision closer to dwellings," she said.
A new round of consultation with estate residents is due to begin next month.
Newcastle-based builder and contruction contractor Todd Milburn Partnership will deliver JDDK's scheme.