Canada Water boss Roger Madelin said general taxation should fund submarket housing
The housing sector should "stop pretending" that affordable housing can be subsidised by developers if it wants to avoid a slowdown in housing delivery, a British Land executive has said.
Roger Madelin, the head of British Land's £3bn Canada Water development in south east London said that "government and society have got to realise that subsidies for submarket homes should come from general taxation".
Speaking during a debate on the future of UK real estate at this year's virtual Mipim conference, Madelin said that the solution to delivering the required numbers of affordable housing was "not rocket science".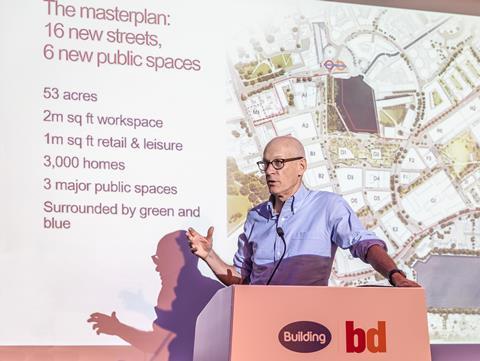 He said that subsidies "cannot come out of the development industry unless you expect the development industry to really slow down or to get really really lucky somehow."
"We should stop pretending that somehow developers particularly in tough situations like London can subsidise social housing, other kinds of affordable housing and deliver the numbers that we want."
He argued that regeneration programmes like those at King's Cross could not be delivered today because developers would not be able to pay the section 106 requirements or CIL obligations.
He added: "People should just remind themselves if people like King's Cross, look at what the planning environment needed to extract at the beginning of King's Cross, and look at what the planning environment has to extract now."
The view was seconded by L&G head of real assets Bill Hughes, who was also speaking at the debate: "To impair viable developments by creating a burden that in many cases is not especially relevant to the development itself is unwise."
But the chief executive of developer Land Securities, Mark Allan, said the industry needed to be aware of a "big perception issue" over how such arguments would be received.
He said there was "something not quite right" when the development industry made the case that projects "can't afford to pay for affordable housing but can afford to deliver high rise residential in the middle of London, a large proportion of which stands empty half the time."
He also said government support from Help to Buy and the infamous £75m in agreed in bonuses to former Persimmon chief executive Jeff Fairburn had to be factored when the industry attempted to argue it didn't need to provide affordable housing.
"So I do think we need to make sure we're not too introspective at looking at how difficult it is for us to do certain things and lose sight of the perception challenge we have as a sector", he said.
Persimmon chief executive Jeff Fairburn was awarded a £75m bonus in 2018 after seeing boosted profits attributed to the taxpayer-backed help to buy scheme.
The payout had been cut back by £25m from £100m after it caused widespread outrage across the housing sector and beyond.