Controversial hotel and resi scheme would have replaced Seifert's Kensington Forum hotel in west London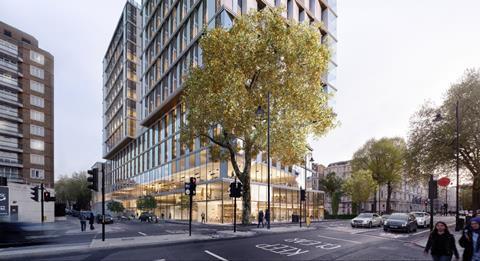 The developer behind Simpson Haugh's controversial £1bn redevelopment of Richard Seifert's 29-storey Kensington Forum Hotel has withdrawn the application despite winning the backing of the mayor of London last year.
The twice-approved scheme, for hotel investor Queensgate, was called in by housing secretary Robert Jenrick at the start of the year, with a planning inquiry scheduled for later this spring.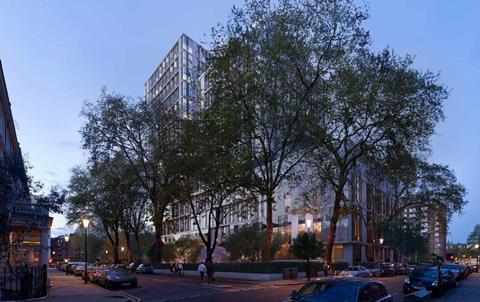 The plans for a 749-bed hotel, 340 serviced apartments and 62 affordable homes on the Cromwell Road site in west London were green-lit by Sadiq Khan in October last year after a lengthy battle.
Designed by architect Simpson Haugh, the scheme consisted of three buildings – a 30-storey tower, a 22-storey tower and a seven-storey block.
It was refused by the local authority, Kensington & Chelsea, and twice approved by the mayor – after his first approval was successfully challenged by the council.
The original brutalist-style tower was designed by Seifert, the architect behind the Centrepoint and NatWest towers in the middle of London.
In a letter to the planning inspectorate, seen by Building Design and written by law firm Dentons on behalf of Queensgate, the firm said it had "decided to withdraw the application" and that the inspectorate should "please therefore treat the application as withdrawn".
The letter did not offer any reasons behind the decision to withdraw the scheme, which was being brought forward by developer Rockwell on Queensgate's behalf.
The redevelopment had been vigorously opposed by local residents and the council, who had argued that it was not of sufficiently high design quality to justify its height in the location.
Patrick O'Connell, head of hotels at Queensgate Investments, said he could "confirm that the planning application has been withdrawn" but also declined to give any reasons for the decision.
The firm would not say whether it will now seek to work up a new scheme. Prior to the coronavirus outbreak, Queensgate had instructed Savills and Eastdil Secured to explore sale options for the site, which it acquired for £350m in 2015. That process was paused due to the pandemic.
The decision comes just weeks after the full adoption of the new London Plan, which includes significant changes to rules governing where tall buildings can be placed, giving more power to boroughs to determine policies.
Michael Bach, chair of the planning committee at the Kensington Society, said the body and 25 local residents' associations had been fighting the scheme for over three years.
He said: "Residents are hugely relieved that the application has been withdrawn and we sincerely hope that this will mark a watershed for projects with tall buildings in sensitive areas which are contrary to policy in the new London Plan."