Construction to start by autumn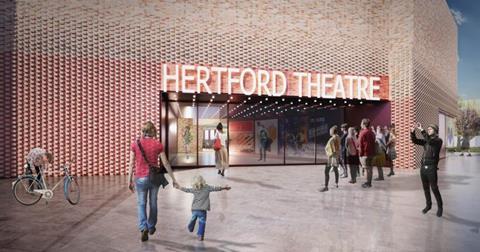 Plans by Bennetts Associates to revamp a theatre in Hertfordshire have been given the green light by the local council.
The £20m revamp at Hertford Theatre will include new cinema screens, foyer and café bar along with new studios for smaller acts and performances and increased main auditorium space for larger productions.
Other work will include uncovering a 12th century motte at the back of the theatre to link the town's theatre with the nearby grade I-listed castle on the southern side of the river Lea.
The theatre, which last underwent a revamp in 2010, has recently been used as a vaccination centre for covid-19.
Last week's decision by East Herts Council means the complex will be closed to the public from early June ahead of construction work starting by the autumn.