Project reimagines Victorian conversion with 30,000 blocks of European oak
Coffey Architects has completed a project to totally reimagine a Clerkenwell apartment conversion set inside a former Victorian school.
The practice stripped back a "dark and cramped" conversion, originally undertaken 20 years ago, and created a new two-storey apartment for insertion into the 1892 building using more than 30,000 individually cut-and-laid cross-section blocks of European oak.
Coffey said the home's envelope was left open and bare to "retain the drama and history of the space" and that it had maximised the sense of openness, light and spatial quality by reconfiguring the flat's existing mezzanine floor over the huge double-height living room. It said the main space celebrated the building's original Victorian features, including windows, glazing and cornicing.
The practice said its work had revealed the original glazed green bricks that line the perimeter of the building's ground floor.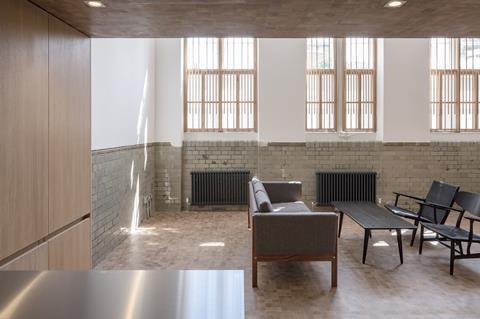 Project architect Ella Wright said the new timber blocks and green-glazed brick worked in tandem to create a "granular richness" of delicate light.
"The concept for the design was to celebrate the history of the building and make a clear definition between what is old and new," she said.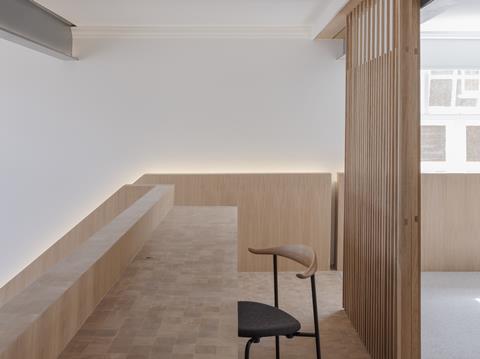 "It is a contemporary piece of hand-crafted, inhabited joinery inserted into a historic envelope; the two fused together in light and material richness."
The oak blocks were individually hand cut and laid by contractor Ed Mcbeath of Woods London and joinery subcontractor James Wilkie. They also make up the ceiling above the kitchen and dining room, as well as an ornate stair and handrail connecting the two floors, and a bespoke desk and dresser.
Structural engineers for the project were Morph Structures.