Museum was six years in the planning
David Chipperfield's West Bund Museum on the Shanghai waterfront has opened.
The new art gallery is a key part of the West Bund Masterplan, which envisages a new cultural district over nine square kilometres of former industrial land.
The 22,000sq m museum occupies a triangular plot at the northernmost tip of a new public park, at the point where Longteng Avenue and the Huangpu River converge.
A raised public esplanade above the flood plain surrounds the building, offering views to the river. The edge of the esplanade on the east side is delineated by a continuous series of steps with landing stages leading to the riverbank.
The building consists of three main gallery volumes, clad with translucent recycled glass, placed in a pin-wheel formation around a central lobby with a double-height atrium. This configuration allows for different components of the museum to operate independently.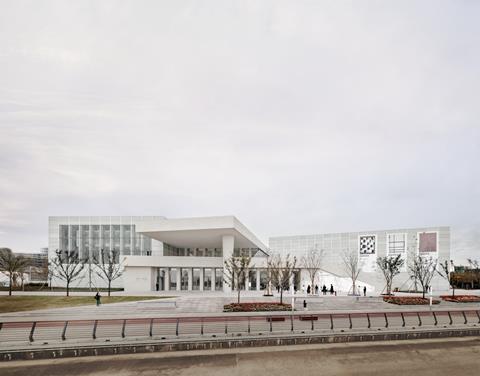 Each of the three main volumes is 17 metres high, with an upper and lower level. The upper level of each volume contains a top-lit gallery space. The spaces on the lower level vary in function, housing a multipurpose hall, an art studio and education spaces. These are partially sunken and lit by clerestory windows. A low pavilion housing the café sits at the river's edge.
The roof of the atrium remains below the roofline of the major volumes and cantilevers far out beyond the building towards the river and the road. At either end, the roof is supported by a colossal tapering column that draws attention to the entrances.
Work began on the project in 2013, with construction starting on site in 2016.
A deal with the Centre Pompidou means that for the first five years the French institution will stage a number of exhibitions in the new museum.