Bid aims to save modernist synagogue and stained-glass windows from demolition
Campaign group the Twentieth Century Society has submitted a listing application for Brighton and Hove Reform Synagogue in a bid to save the modernist building and its windows from demolition.
The synagogue was designed by Derek Sharp Associates and completed in 1968. It features stained glass by John Petts, who was chosen because of his international standing as creator of the Wales Window for the 16th St Baptist Church in Birmingham, Alabama.
The C20 Society said historians had drawn comparisons between Petts' artwork, which presents scenes from the Revelation, and Picasso's seminal painting Guernica because of the way both articulate the personal, emotional and historical dimensions of war.
The windows also feature symbols representing the oppression faced by the Jewish people through history and the atrocities of the Holocaust.
They have been identified by the Imperial War Museum as a Holocaust memorial and are the most significant example of Petts' work in the UK.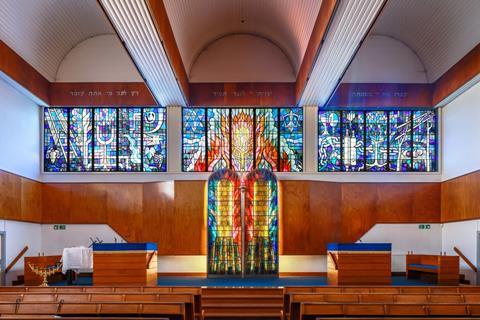 The C20 Society argues that the synagogue has clear historic significance, architectural merit and communal value, and should be listed at grade II.
Senior caseworker Coco Whittaker said that the building's postwar architecture and artwork were "exceptional" and that the building had "major value" as a Holocaust memorial and as a social and spiritual centre.
"The demolition of this remarkable and important building would represent an extraordinary loss to the nation – it must be prevented," she said.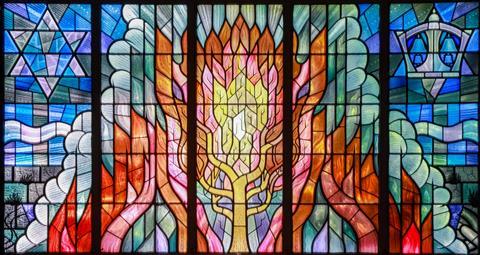 Art historian Alison Smith said the John Petts windows stood as "one of the great religious works of art of the 20th century" and were comparable to John Piper's stained glass in Coventry Cathedral.
"I can think of no comparable Holocaust memorial of this scale and quality in the UK," she said.
Government heritage adviser Historic England processes and evaluates listing applications. Ultimately, decisions on listing are made by the secretary of state for culture, media and sport – based on Historic England's recommendations.