Axe still looms over Foster & Partners bus station as developer goes back to drawing board
Santiago Calatrava's dramatic trio of twisting towers appears to have been dropped from the £8.4bn Greenwich Peninsula masterplan.
The huge glass complex – which would have been the Spanish architect's first UK project – was due to be built on Will Alsop's North Greenwich station, destroying the above-ground bus interchange which was designed by Foster & Partners.
Peninsula Place was unveiled to much fanfare in February 2017 as the much-vaunted £1bn centrepiece of the 150-acre Peninsula Central district which was masterplanned by Allies & Morrison.
But the Calatrava towers are said to have vanished from images briefly put on display at a public consultation event this summer.
And Foster's bus station is still set to be demolished to make way for a much larger interchange capable of handling the number of people expected to live in and visit the area in the long term, BD has been told.
In a report on the consultation for its members, the Greenwich Society amenity group wrote: "The Santiago Calatrava glass towers and shopping centre for North Greenwich tube station have gone – replaced by three pretty ordinary tower blocks. The original concept has been deemed to be too difficult to build and the retail space unnecessary."
The developer, Knight Dragon, told BD that Calatrava himself had not been dropped from the high-profile project but that the whole scheme was "evolving" – hence the consultation.
A spokesman said the "ordinary" towers in the CGI were not the design of a new architect but "generic outlines for massing as per the Allies & Morrison 2015 masterplan".
"Every neighbourhood and / or plot will be subject to detailed design submissions when a firm is appointed to carry out the work," he added.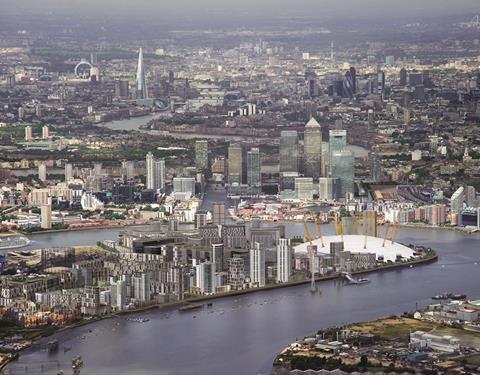 Knight Dragon's chief executive Richard Margree confirmed: "The plans for Peninsula Central are evolving and we remain in contract and on very good terms with Calatrava."
Calatrava's 30-storey towers, which resembled an upturned stool, would have contained flats and retail, a 25m high winter garden and a 150m-long glass galleria where visitors for the O2 would arrive from the tube. Calatrava also designed a tubular footbridge to the Thames, which is also covered by the rethink.
BD understands the number of homes is now likely to increase, with L&Q brought in as the affordable housing partner.
The Knight Dragon spokesman said: "The public consultation looks at what will be delivered for the plot that Santiago Calatrava had designed. They are looking to update that now and it might be that there will be more housing.
"Collectively the architects and Knight Dragon and the affordable housing provider L&Q are all coming together to determine what that neighbourhood, Peninsula Central, will look like."
The wider Greenwich Peninsula scheme is set to include buildings by the likes of SOM and Alison Brooks – both responsible for residential skyscrapers – David Kohn Architects and 6a who are among the practices working on a low-rise "design district" containing affordable workspace for creative businesses as well as exhibition space and restaurants.
Spanning the width of the north Greenwich peninsula – a once-contaminated gasworks site whose fortunes were turned around by the-then Millennium Dome – the scheme was originally set to contain 15,720 homes in seven neighbourhoods at a density of 400 dwellings per hectare, as well as 3.5m sq ft of retail, offices and hotels, two schools and a film studio.
The Greenwich Society said: "This is going to be a very dense development if it all gets built – a mini-Manhattan. Even the land between the two motorway slip roads is destined for social housing. There is no additional green space at all although the existing Central Park is dwarfed by new blocks. The Knight Dragon team would not reveal how much of the next phase of development would only be marketed outside the UK."