Peter Baker led Building Safety Regulator since 2021
The head of the Building Safety Regulator (BSR) has retired just weeks after the body opened its process for building owners to register high-rises, Building Design's sister title Building has revealed.
A 38-year veteran of the Health and Safety Executive (HSE), Peter Baker has served as chief inspector of buildings at the BSR since February 2021.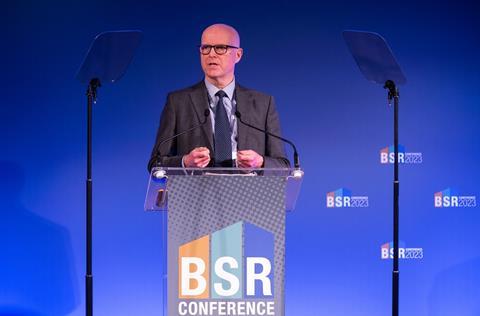 His departure will be a surprise to many, just weeks after expressing his desire to create a "world leading" safety regime.
Philip White, the HSE's current director of regulation and former head of the construction division, has taken over as an interim pending recruitment of the next chief inspector of buildings.
The establishment of the BSR, which sits within the HSE, was among the recommendations made by Dame Judith Hackitt in the wake of the 2017 Grenfell Tower tragedy, which killed 72 people.
Its purpose is to create a new regulatory regime for high-risk buildings and to ensure the industry complies with them, as well as overseeing work to increase the competence of professionals working in the built environment.
On 6 April, it began accepting registrations for higher risk residential buildings – those over 18m tall – in what many see as the unofficial "launch" of the new regime.
Building owners have six months to register the roughly 12,500 higher-risk buildings in the England or they could face criminal charges.
A spokesperson for the HSE said: "The processes and plans for the launch of the new regulator are all in place and underway.
"The Building Safety Regulator continues to work closely with government and industry, and we expect the regime to be fully operational by April 2024."
Key dates
6 April - period for owners to register high-risk occupied buildings technically opens
12 April - digital portal for registrations expected to launch
1 October- period for high risk buildings registration ends
October - regulations for gateways 2 and 3 expected to come into effect
October - BSR to take over regulation of the building control profession
April 2024- BSR to start issuing building assessment certificates
Speaking at the BSR's first ever conference in London last month, Peter Baker said the opening of registration for higher risk buildings would be a "milestone" for buildings safety.
"It will ensure for the first time there is a consistent source of information about higher risk buildings and that residents and users of buildings will know absolutely who is responsible for the safety of that building," he said.
"We are now aspiring to put into place a building safety regime that is world leading and puts residents at the heart."
Prior to leading the creation of the new regulator, Baker was chief inspector of construction at the HSE from 2015 to 2018.