Only a fraction of proposed work at Castlefield's Roman Gardens was completed following original 2017 consent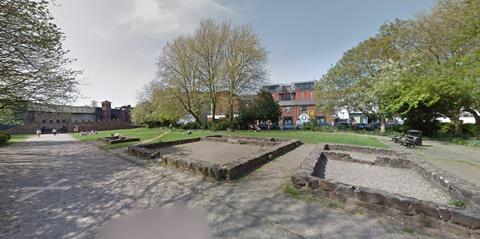 BDP has unearthed its plans to upgrade a park in central Manchester which contains the ruins of a 2,000-year old Roman fort, eight years after first unveiling its masterplan for the site.
The practice has resubmitted a full planning application for the crowdfunded redevelopment of Roman Gardens in Castlefield, three years after the original consent lapsed.
The small park, located on the western edge of Manchester city centre, contains the rebuilt ruins of the ancient fort of Mamucium.
The site is considered to be the birthplace of the modern city of Manchester, which grew from a small village that had been built up around the fort.
Plans to upgrade the 8,200sq m park were approved in 2017 but only small parts of the work was completed and the consent later expired.
The Castlefield Forum, a local community group which first launched the project in 2010, has described the site as one of Castlefield's "saddest and most unloved areas".
The fort's foundations and a stone gateway were reconstructed in the 1980s and are linked by a stretch of path tracing the route of the original Roman road which ran between York and Chester.
The site also contains a series of defensive ditches uncovered during early 20th century excavations.
BDP's plans, drawn up for the Castlefield Forum, aim to transform the park into an "inspiring new gateway for Castlefield" that does a better job of telling the story of the site and its ruins than the current park.
The proposals include building a new east-west pathway, creating a timeline installation for visitors and building an informal stage area.
The plans would also create a rain garden inspired by Roman gardens, remove perimeter fencing, pave over existing mud paths with recycled Yorkstone, install night-time lighting and sculpt some grassy areas into mounds to encourage children to play.
BDP was appointed to the project in 2011 and first unveiled a masterplan for the site in 2015 following pre-application meetings with Manchester council.
Following approval in 2017, the only works which were carried out were the resurfacing of the Roman road path, the installation of lighting around the rebuilt gate and some chopping back of trees.
Further work is expected to be completed as funding becomes available.