Quadrangle has 200-strong studio in Toronto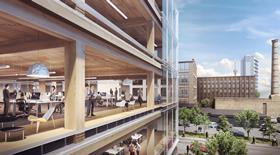 BDP has secured its first foothold in North America after snapping up a Toronto-based architect for an undisclosed sum.
The UK architect, which was itself bought by Japanese engineer Nippon Koei three years ago, already has six offices in the UK, three offices in Asia and two in Europe.
It now owns Quadrangle, an architecture and interior design practice with more than 200 staff.
Quadrangle was founded in 1986 and works across commercial, mixed-use, residential and retail sectors.
It is currently completing schemes including 80 Atlantic Avenue (pictured), Toronto's first wood office building in more than 100 years.
BDP has confirmed Quadrangle will continue to operate under its existing brand name.
The deal will see four of the Canadian firm's principals join BDP's board.
BDP chief executive John McManus said: "Quadrangle supports our strategy to grow operations in the Canadian marketplace [and] will also enable both BDP and Quadrangle to expand our services into new regions."
According to BD's WA100 survey of the world's biggest architects, BDP - which is leading the restoration and renewal of Parliament - is currently the 30th largest practice in the world, with 378 qualified architects, while Quadrangle is at number 94 with 110 architects.