Architect hails improved performance at UK arm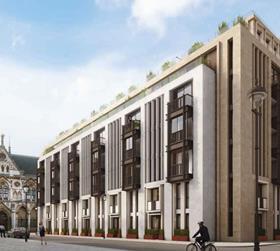 An improved performance at its UK business helped listed architect Aukett Swanke narrow losses in the half year.
The firm said losses at its UK business tumbled from £879,000 to just £15,000 on revenue up 16% to £3.7m.
Aukett said it had reduced costs at the UK operation by £352,000 while more work at its executive architecture business Veretec also helped with the firm working on a number of schemes including a £135m residential project (pictured) being built by Multiplex for upmarket developer Lodha on Carey Street in London's Holborn district.
The Middle East remains a problem area with losses widening £58,000 to £438,000 which the firm said was down to project delays.
But earlier this week Aukett said there was a sign of a turnaround with the firm finally getting the green light to start on exhibition centre in Dubai – more than 18 months after winning it.
Overall, pre-tax losses for the firm in the six months to March 2019 reduced to £371,000 from £1.2m last time on revenue flat at £7.3m.