Gramophone building is 'last piece in puzzle' of regeneration project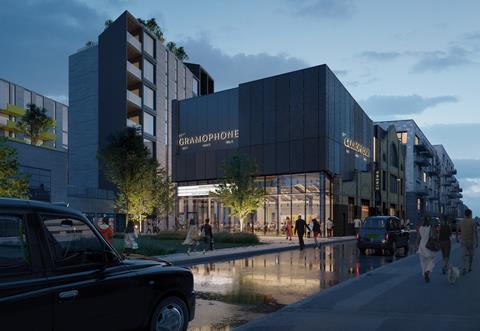 Architecture Initiative has won planning for a cinema and community venue at EMI's former global manufacturing headquarters where records by bands such as Pink Floyd and the Beatles were pressed.
The project, known as The Gramophone, is one of the last elements of U&I's long-term regeneration project at the rebranded Old Vinyl Factory in Hayes, west London, which was masterplanned by Studio Egret West and will contain more than 750 homes, a school, 550,000sq ft of office space and retail and leisure facilities.
It will be the first cinema in Hayes for 70 years.
The building, previously known as Apollo House, was partially demolished under previously consented plans drawn up by Shed KM in 2016. It was acquired by specialist developer Really Local Group in 2019. Architecture Initiative's proposals – approved by Hillingdon council – will see it refurbished and repurposed into a four-screen cinema with a café, recording studios, listening room and workspaces.
Large sections of the pressing plant will be retained, including the brick façade, while new-build elements, including a pre-cast concrete roof box housing the cinema screens will be set back. Lee Mainwaring, design director at Architecture Initiative, likened the architectural concept to an album sliding out of its sleeve.
Grooved pre-cast concrete façade panels reference the grooves in a record while the design of the exposed steel structure is meant to recall the arm and stylus of a record player, he said.
"The Gramophone celebrates the heritage of the former EMI headquarters where so much ground-breaking music was created," added Mainwaring.