LSI's Peter Courtney said default response should not be an automatic 'no'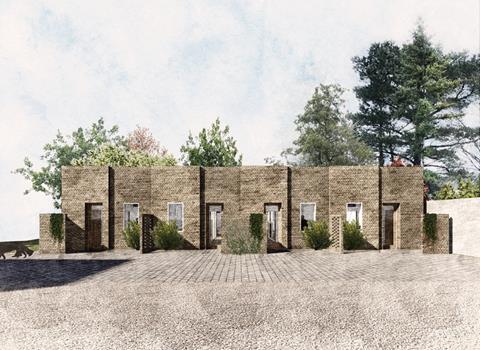 The architect behind a proposed 12-home scheme on an infill site in south London has rebuked residents who object "by default" to new developments.
LSI Architects has received planning permission for a scheme in south London, which includes four new-build mews houses (pictured) to be built on the site of a set of derelict garages, from Croydon council.
The remaining homes would result from the refurbishment of existing buildings adjacent to the site.
Peter Courtney, a director at LSI, praised the neighbours' approach to the scheme and said a "collaborative attitude to planning engagement has resulted in a sensitive, well-rounded design solution to enhance the community of which it will become a part".
But Courtney took a subtle swipe at neighbours who exhibit nimby attitudes towards many other schemes.
"If underused garage sites such as this are to be utilised effectively to help meet the demand for new housing we all need to recognise the common benefit and put individual isolated concerns to one side," he said.
"The default reaction from neighbours, for example, should not be an automatic 'no'. There is a real need for more constructive engagement and consultation, combined with a more streamlined, consistent and simplified approach to planning engagement."
LSI said the scheme retained an existing mansion building and provided a bespoke new development at the rear of the site.
The firm said accommodation would be "submerged" to covertly increase the residential units without impacting the neighbours' outlook and light.
Living spaces for each house have been arranged around a large central lightwell so all rooms benefit from natural light and a view of the sky with minimal overlooking. The mews houses will feature sedum roofs.
Dean Gibson from Croydon council's area planning team said: "LSI Architects scheme at 196 Sydenham Road was highly regarded by Croydon's planning team and the chair of the planning committee. In particular, the new mews houses in the rear of the site epitomises our ambition to optimise the potential of existing residential land through original, innovative and high-quality sustainable design. LSI are commended for developing a scheme that promotes such positive living spaces."