But architect told to look at 'roughing up' smooth stone to match rest of award-winning facade
This story has been updated with a statement from Islington council

Amin Taha and Groupwork have won their fight to save 15 Clerkenwell Close from demolition.
A planning inspector over-ruled Islington council's order to knock down the RIBA Award-winning building.
The inspector also confirmed the stone façade does not need to be replaced with brick.
But he instructed Taha to look at the feasibility of making the façade more uniform by roughing up areas of smooth stone.
Other conditions include building out office floors immediately rather than waiting for them to be occupied, lowering a solar chimney and pruning trees.
Taha told BD he was still digesting the 24-page report.
He said: "The inspector said we need to see if it's feasible to make the smooth stone rougher so it doesn't contrast so much. We'll see.
"I'm just relieved that we are not demolishing or refacing it in brick. I'm exhausted by it all. Legal advice is to pursue them for millions but I don't want to spend another two or three years on this.
"I want to say a big thank-you to everyone who supported us. There were 4,000 emails and letters from around the world to the planning inspector, Islington's planning department and us. We are so very grateful for everyone's support and will aim to hold a thank you celebration at the office or the adjacent Three Kings pub, space permitting."
Taha, who lives and works in the building, announced the news on Twitter this morning after receiving a text from his lawyer while walking his dog.
Architects and others queued up to congratulate him, including former RIBA president Angela Brady, Charles Holland and Adam Nathaniel Furman. Robin Sutherland of Sutherland & Co said: "Sanity prevailed, which is not a given these days."
Congratulations....good news!

— Charles Holland (@charlesjholland) August 15, 2019
The decision is the culmination of a long legal battle dating back to 2016 which saw the building issued with two enforcement notices by the council.
The dispute centred around whether Taha had submitted details of his revised plan for the main façade to be built from rough-hewn stone containing fossils, rather than brick. The council eventually conceded that Taha had supplied the relevant drawings.
Very many congratulations to Amin Taha @Groupwork_arch for winning appeal against Clerkenwell Close demolition order and thanks to all who supported their cause. Quality will out! https://t.co/IvkReRzKVq

— Ben Derbyshire PRIBA (@ben_derbyshire) August 15, 2019
It also argued that the five-storey building, which originally won consent in 2013, was built in breach of planning rules.
It said the "design and location fails to preserve or enhance the Clerkenwell Green Conservation Area" and harms its setting – which includes grade II* St James' Church.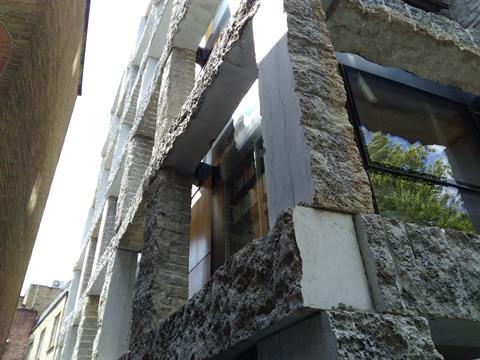 The RIBA gave a 2018 London Award and a 2018 National Award to 15 Clerkenwell Close. The previous year Taha and Groupwork were shortlisted for the Stirling Prize for the Barret's Grove flats development in Stoke Newington.
An Islington council spokesperson said: "We're pleased that Mr Taha has finally admitted that the building did not benefit from planning permission. We are also pleased that the inspector has required 15 Clerkenwell Close to be modified to include more employment space, in line with Islington's development plan. The Inspector also concluded that the building should be modified to mitigate the harm caused to local heritage assets".
"We're of course disappointed that the inspector did not agree with the council's view that the degree of harm the building caused to the Clerkenwell Green conservation area and the setting of nearby listed buildings warranted further modifications to the building.
"The council looks forward to the removal of the unauthorised and visually harmful solar chimney, changes to the roof garden, and alterations to the limestone columns and beams facing Clerkenwell Close, as set out in the Inspector's conditions.
"We're also pleased that there will be a £420,000 payment towards badly-needed affordable housing, in line with Islington's planning policies."