Work to rewrap the tower has also been held up by covid-19 restrictions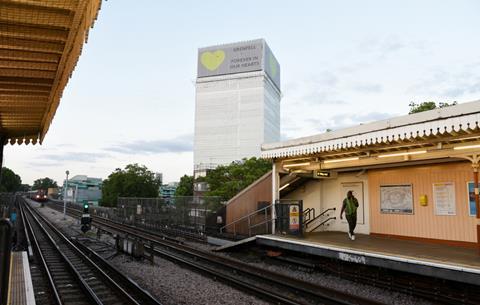 Environmental assessments set to be carried out by Aecom of the ground around Grenfell Tower could be delayed because of the coronavirus outbreak, the government said today.
It is reviewing its plans for a second, more detailed, stage of testing to investigate possible land contamination caused by the deadly blaze in June 2017 and whether this poses a risk to public health.
The first stage of tests found that levels of chemicals in the soil were consistent with those generally found in London. Air quality monitoring has also been in place since June 2017 and has not identified any cause for concern.
A statement issued today by the Ministry of Housing, Communities and Local Government (MHCLG), said: "We are now reviewing our plans for stage 2 to see when and how this work can continue safely and how residents can be involved, in response to the latest government advice on covid-19."
Meanwhile, work to rewrap the tower's burnt shell has also been paused in response to social distancing rules. The work was originally due to complete next month.
The MHCLG said: "The re-wrapping of the tower has been paused to avoid staff going on-site or using public transport. The re-wrapping progressed well in March, and the remaining 'older' wrapping on the lower floors is in good condition. We do not believe pausing the re-wrapping is a cause for concern."
It also gave an update on the work of the Grenfell Tower Memorial Commission, the group of bereaved family members, survivors and residents tasked with developing ideas for a memorial to the 72 people who lost their lives in the tragedy. It said it ran a series of community events in February and that its work would "continue during this challenging period".