Cherry Groce Memorial Pavilion honours mother whose shooting by police sparked Brixton riots
Adjaye Associates has completed a memorial to the woman whose shooting by the Metropolitan Police in 1985 triggered the Brixton riots.
Cherry Groce was paralysed from the waist down in the attack which happened in front of her children at their home. She died as a result of her injuries in 2011.
The Cherry Groce Memorial Pavilion in Brixton's Windrush Square consists of a single column supporting a triangular roof planted with flowers. The column represents Cherry's strength and support of her community.
With its roof and integrated benches, it is intended to act as a gathering place as well as memorial, said David Adjaye who said the design echoed the lawns and angular forms of the square's existing landscaping including the neighbouring Memorial to African and Caribbean Soldiers.
He added: "I am honoured to celebrate the unveiling of this project and the representation it brings to the black community for Brixton, London and the UK at large. It is my sincere hope that the restorative justice that is borne from the making of this pavilion can help us all learn from and be better neighbours to each other in the city that we live in."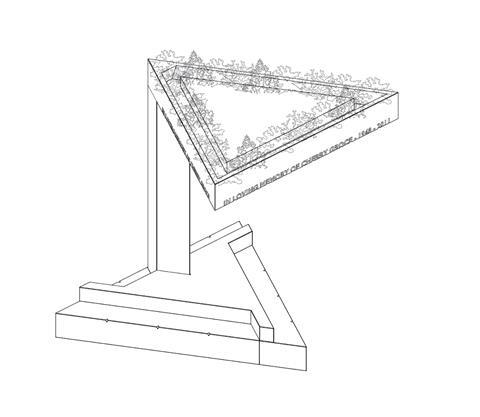 Adjaye was named recipient of the 2021 RIBA Gold Medal last year, an honour he is set to receive at a ceremony next month.
The client was the Cherry Grove Foundation which was established in 2014 to offer practical support including community transport and restorative justice primarily to marginalised black, Caribbean and African communities who continue to face discrimination.
>> From the archive: Adjaye Associates unveils Cherry Groce memorial
Cherry's son, Lee Lawrence, said the memorial had been a long time coming.
He added: "It's a wonderful feeling and honour to have such a significant memorial embedded in Brixton which we and many other black people call home, as well as being the place where we experienced so much of our struggles.
"To have this memorial dedicated to my mother and a community who rose up for the terrible injustice which happened to her and subsequently us is the greatest gift I could give to her in her absence."
Structural engineer was AKTII.