Practice says 'bold, can-do architecture will give station entirely new vibe'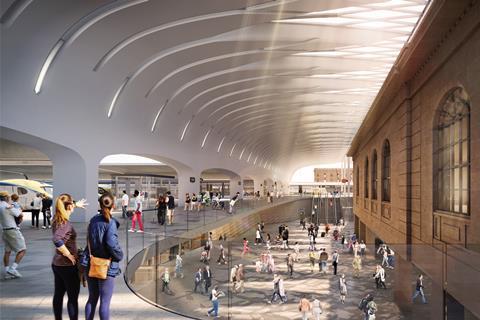 John McAslan & Partners and Woods Bagot have designed the Sydney Metro upgrade to the city's Central Station, Australia's biggest railway hub.
Laing O'Rourke has been awarded the AUS$955m (£537m) contract to deliver the improvements to the 112-year-old station.
The station revamp is part of the wider AU$20bn (£11bn) Sydney Metro project, Australia's biggest public transport infrastructure scheme.
The Central Station metro upgrade includes the main concourse, northern concourse and metro box platforms.
McAslan said the "bold, can-do architecture will give the station an entirely new functional and experiential vibe".
Neil Hill, design leader for Woods Bagot, said the concept design was intended to be purposeful, functional, sculpturally rich and synthesised with the historic qualities of the original station.
"While delivery of the core scope of works has been a priority, the design also createsa seriesof 'urban rooms' – civic scale spaces such as new triple-height spaces as part of a broader urban and civic approach," he said.
"The craft and richness of stonework evident in the existing building are reinterpreted to form new textured sandstone walls into the new Metro Box, establishing the exceptionally crafted subterranean architecture firmly within the historic precinct and providing a civic quality to the new station works.
"Below ground, the atmospheric qualities of volume, surface and natural light characterise the design scheme for the Central Station upgrade. With respect to existing hierarchies of arches and materials, the proposal has a clear relationship with Walter Vernon's architecture of the station above. While the interfaces between old and new will be quite distinct, they will be architectural segues rather than jump-cuts."
Central Station sees more than 250,000 people passing through every day, with passenger numbers expected to grow to 450,000 a day in the next 20 years.
John McAslan & Partners was responsible for Kings Cross station in London, and Australian architect Woods Bagot's design credits include a new terminal at Perth airport and several hotels.