Former Birds Eye headquarters would be razed to make way for 375 home development
Proposals have been lodged to demolish a groundbreaking grade II listed office building in Surrey to make way for a 375-home residential development dubbed a "worthy architectural replacement".
Broadway Malyan has drawn up the plans for Walton Court at Walton on Thames for affordable housing provider A2 Dominion and housebuilder Crest Nicholson, which is based in nearby Chertsey.
The architect said that despite its striking design, Walton Court had been empty for more than a decade and had a limited lifespan as its main block's loadbearing superstructure used now-banned High Alumina Cement while its façade failed to meet modern standards. It said demolition and replacement was the only financially viable option.
The Twentieth Century Society said it was still formulating its response to the proposals, but was not convinced the "exceptional circumstances" required for knocking down a listed building had been adequately demonstrated.
Walton Court was designed by Sir John Burnet, Tait and Partners and built in the early 1960s as a headquarters for frozen food company Birds Eye, and extended towards the end of the decade.
It was listed in 1995, with reasons including its crisp, bespoke design – including early use of geometric op-art shapes, and the way its design is integrated with landscaping by Philip Hicks that includes internal courtyards and a reflective pool.
The entry also praises Walton Court's "precise and inventive detailing and finishes" particularly its curtain walling, high-quality marble and timber finishes to the entrance and internal public areas, and its historic interest as an early example of a company moving its operations from central London to a single suburban site.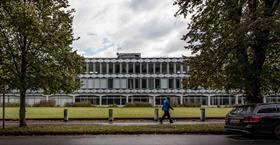 Broadway Malyan regional director Stuart Bertie said the practice's proposals for the eight blocks earmarked to replace Walton Court had been created to reflect elements of the existing structures, but not copy them.
"The striking design of the existing building with its strong horizontal rhythm created by the half hexagonal aluminium pattern of the façade has been a key influence in designing a scheme that we believe is a worthy replacement architecturally," he said.
"Rather than create a facsimile of the listed façade, our proposal preserves the repetition and rhythm but reinterprets the hexagonal effect of the existing elevation with full height angled façade components that evoke the original pattern but offer a constantly changing façade throughout the day through relief and shadow."
Bertie said the scheme's proposed brick buildings would offer "more solid and carved elements" that would help bed the scheme into the local area.
So far local planning authority Elmbridge borough council has received 48 letters of objection to the proposals for Walton Court, against 10 letters of support. Overdevelopment of the site is a recurrent theme among objectors.
Bizarrely, Walton Court was home to a menagerie including penguins, flamingos, alligators and terrapins in its early years.
In the summer of 1965, two Chilean flamingos were introduced to the building's Japanese Courtyard, while two Humbolt penguins were brought to the Monolith Garden and Caiman alligators introduced to the interior pool.
The penguins suffered from ill health and died, while the alligators were sold off after apparently splashing too many visitors, documents submitted with the planning application said.