Japanese architect says £80m V&A Dundee is embodiment of 21st-century public design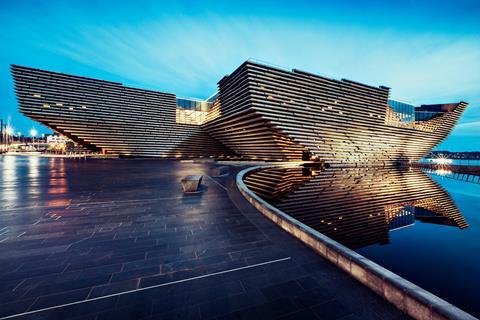 Kengo Kuma has spoken of his belief that "square box" public architecture is a thing of the past ahead of the opening of his £80m V&A Dundee design museum.
The 8,000sq m Tayside centre, which has come in at nearly double the £45m cost projected when Kuma won the design competition for the building in 2010, is due to welcome its first rank-and-file visitors on Saturday.
Speaking about the project on BBC Radio 4's Today programme, the Japanese architect reiterated that his inspiration for the building had been cliffs in the north-west of Scotland.
But he went on to add that he believed the unconventional shape of the structure – commissioned to act as a bridge between Dundee's riverside and the city centre – was symbolic of a wider movement in public architecture.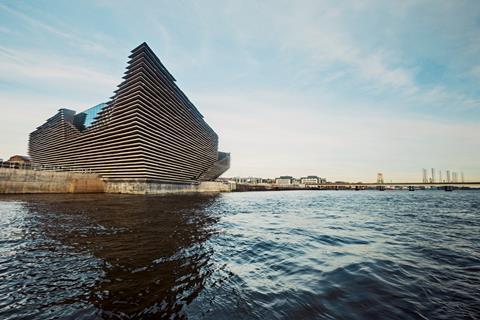 "In the 20th century architecture was a square box but now we try to, as a change, as a definition of architecture, design from squareness, rigidness to more natural and softer [shapes]," he said.
Referring to the new museum, he added: "It can be a good example of that new trend."
V&A Dundee director Philip Long told the programme the building was a beacon for Scottish design ambition that literally could not have been delivered in the last century.
"Our contractors working on the project say 10 years ago, this couldn't be done," he said. "But because of digital technologies that have been used it has been achieved."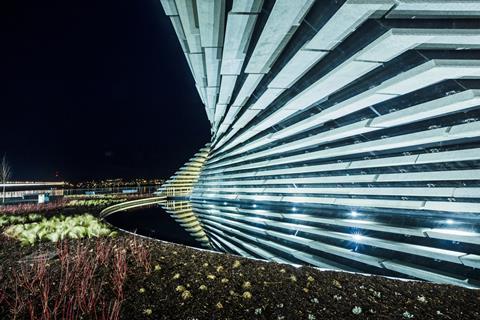 Kuma beat teams that included Steven Holl and Rex, Snohetta with Gareth Hoskins and Austrian firm Delugan Meissl Associated Architects in the competition. Rex subsequently told BD it had been widely accepted at the time of the decision that the winning design could not be built for the stated budget.
None of V&A Dundee's walls is straight, requiring the process of fabricating and installing the building's 2,500 cast stone two-tonne panels to be "meticulously planned".