Optimised Environments draws up proposals for café and ancillary buildings in shadow of new museum
Details have emerged of proposals for a new "urban beach" area and low-rise buildings commissioned by Dundee council for the waterfront next to Kengo Kuma's £80m V&A museum.
The proposals for part of the Waterfront Place development on the banks of the Tay were created by Optimised Environments and lodged for planning last week.
They include a café and ancillary buildings which will be largely submerged beneath landscaped public areas that echo the design of the angular 8,000sq m museum which is due to open in September.
Supporting documents for Optimised Environments' proposals said the practice had begun with a "dune-scape" concept with asymmetrical structures, covered with varied landscape finishes.
It said the main café pavilion would have minimally framed glazed facades at the front and rear, with corten plates extending beyond the roof to form a balustrade at the northern end.
Optimised Environments' plans also include water features, beach huts and decking areas.
The exterior of Kuma's V&A Dundee building is now complete – but it has come in at three times the project's original budget, and almost double the expected £45m cost when the Japanese architect won a design competition for the project in 2010.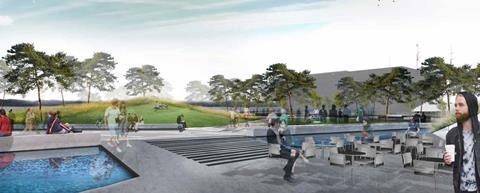 Kuma beat teams that included Steven Holl and Rex, Snohetta with Gareth Hoskins and Austrian firm Delugan Meissl Associated Architects.
Kuma's complex design was difficult to build. None of the structure's external walls is straight, so the process of making and installing the 2,500 cast stone two-tonne panels had to be "meticulously planned".
To complicate matters further the 18.4m-high building juts out into the River Tay.