Ike Ijeh takes a look at the other bridges planned across the Thames
It would appear that the recent Hodge Review has thrown the future of London's Garden Bridge into considerable doubt. Its cancellation now seems more likely than ever and one imagines that after naively offering it his full support after his election, London's mayor Sadiq Khan is currently engaged in a frantic exploration of various Kafkaesque strategies by which the besieged project could be axed whilst depositing only a modicum of egg onto his formerly enthusiastic face.
But while, for obvious reasons, the Garden Bridge has grabbed all the headlines since the project's chief flag-waver Joanna Lumley had her first dream about it, there have been other pedestrian bridge proposals for the river Thames that have variously flourished or floundered in the intervening period. These present an interesting compendium of architectural and municipal obsessions when it comes to both engineering design and infrastructure expansion.
Some of the bridges have been championed by local authorities. Some have been proposed by private developers wishing to forge new connections and profiles for their schemes by unfurling them across London's most prominent public space. And some of the bridges, in by far the most intriguing category, have been devised by architects out of seemingly nothing more than civic altruism and imaginative whimsy. This follows in the same long veritable tradition of architects seeking to reimagine the built environment as an expression of their own aesthetic virtues that compelled Soane and Gandy to produce their fantastical allegories of unbuilt palaces and parliaments.
But what links all these bridge projects is that they are currently unrealised. This may well be a condition soon terminally imposed on the Garden Bridge. But in the meantime below is a selection of its lesser known rivals that are all seeking to bridge that famously inaccessible gap between render and reality.
BLACKFRIARS GARDEN ISLANDS BRIDGE
Proposer/Architect: Crispin Wride
Proposed: 2016
Cost: Undisclosed
Connects: Bankside & City
Status: Concept
One of the most haunting parts of the Thames is the short stretch of river between Blackfriars road and railway bridges where the red piers of a long dismantled bridge rise solemnly from the water. The bridge they once supported was only removed in 1985, its 1864 construction by Joseph Cubitt the result of the frenzied multiplication of competing private railway services that gripped Victorian England. But ever since the pillars were exposed, they have variously captured the imagination of Londoners, artists and architects as the ghostly palimpsest of a vanished city. Which is one reason why last autumn, architect Crispin Wride collaborated with OPS Structural Engineering to table proposals for the reutilisation of the piers as a new garden bridge. Wride has form here: he worked on an unsuccessful entry for London's Millennium Bridge and also worked on the design for the northern entrance hall for the adjacent Blackfriars station. His design incorporates four linked leaf-shaped 45m x 30m platforms that would also be laterally accessible from the adjacent Blackfriars road bridge and would transform crossing the river into what Wride described as a "dynamic new experience".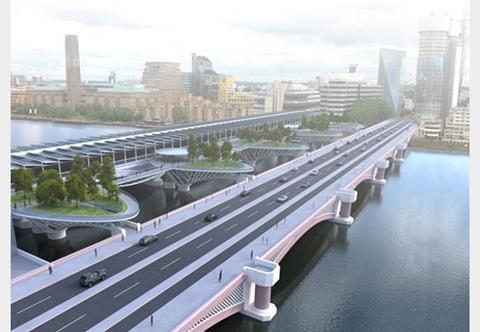 BLACKFRIARS BRIDGE GARDEN
Proposer/Architect: Allies & Morrison
Proposed: 2016
Cost: Undisclosed
Connects: South Bank & City
Status: Concept
Blackfriars Bridge appears to be something of a hub for new bridge proposals. But rather than building a new stricture, this idea simply re-appropriates the wide western side of the existing road bridge as a new planted garden complete with trees, foliage and flower beds. Blackfriars Bridge already offers some of the widest pavements on any London bridge and by closing the eastern pavement entirely, the designers claim that a generous 14m wide continuous garden could be created on the opposite side. While this would necessitate the closure of the recently installed cycle superhighway that currently straddles the bridge's western side, the proposers offer two key advantages over the Garden Bridge proposals. First, as the bridge is closer to St Paul's it would have less of an impact on views. And, secondly, by reusing an existing bridge, considerable cost could be saved by not building a new one.
NINE ELMS BRIDGE
Proposer: Wandsworth Council
Architect: Bystrup and Snell
Proposed: 2015
Cost: £40m
Connects: Pimlico & Battersea
Status: Feasibility
After the Garden Bridge itself, this has been one of the most high-profile bridge proposals of recent years. A design competition in 2015 was chaired by Graham Stirk of Rogers Stirk Harbour & Partners and attracted 74 entries and massive global interest. The competition was eventually won by a joint team formed by architects Robin Snell & Partners and Danish firm Bystrup Architecture, Design and Engineering. The scheme proposes a 920m pedestrian and cycle suspension bridge strung between two slender masts that each meet the ground encircled by a pair of wide spiral ramps on either bank of the Thames. The project is now engaged in feasibility to determine its exact location and £26 million has already been earmarked for the project. But the scheme has been beset by almost Garden Bridge levels of controversy. While its backers claim it essential for the new developments taking place around Nine Elms and the new American Embassy, many Pimlico residents have been vociferous in their opposition on the grounds of increased footfall and the impact of the northern landing on surrounding public realm.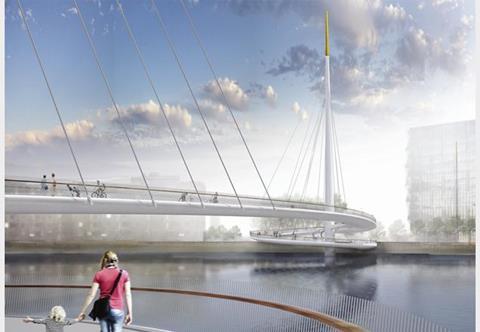 CANARY WHARF & ROTHERHITHE BRIDGE
Proposer: Sustrans / TfL
Architect: Reform Architects / Elliott Wood
Proposed: 2014/15
Cost: £88m
Connects: Canary Wharf & Rotherhithe
Status: Feasibility
It is of the perennial imbalances of London that while most pedestrian bridge proposals have been west of Tower Bridge, it is east London, with not a single bridge east of central London, that is in desperate need of a new river link. This new proposal seeks to play a small part of redressing this dispartity. The design proposes a structurally dynamic crossing with a raising central span to allow large ships to pass through. It would be the first bascule bridge built on the Thames since 1894 and would thereby trade instinctively on the iconic imagery of Tower Bridge, despite this being an altogether more contemporary version. Construction is estimated to take up to five years and, according to feasibility projections, would serve up to one million pedestrian journeys and two million cycle journeys per year.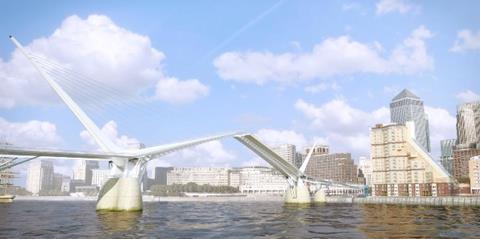 DIAMOND JUBILEE BRIDGE
Proposer/Architect: One-World Design Architects
Proposed: 2013
Cost: £24m
Connects: Battersea & Fulham
Status: Planning Approval / TfL Due Diligence
Not to be confused with the Golden Jubilee pedestrian bridges that straddle either side of Hungerford Railway Bridge at Charing Cross, this new link hopes to be first independent crossing across the Thames since the opening of the Millennium Bridge in 2000. Again prompted by the weight of development taking place around Battersea, the elegant structure features a trio of arches spanning alongside the existing Battersea Railway Bridge. Despite gaining planning permission from both Hammersmith and Fulham and Wandsworth councils four years ago, the project has made slow progress since, although it received London Assembly backing last autumn. However, should London's traditionally glacial approach to infrastructure expansion kick-in in earnest, the bridge might well need to be renamed after the Platinum Jubilee before it ever sees the light of day.