Community project one of Piers Taylor's 'most important'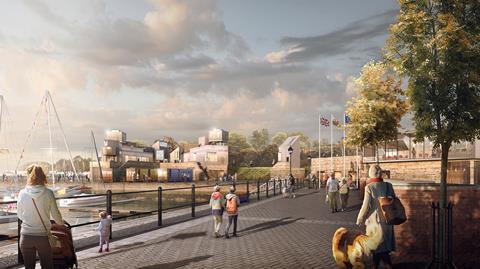 Invisible Studio has won planning for a £6m seafront regeneration scheme in a Somerset town that was spearheaded by the community.
The East Quay Cultural Development beside Watchet's marina will provide 1,094sq m of flexible space that will contain studios, a gallery, shared workspaces, maker spaces, a print workshop and a café.
It is intended to be part of the wider regeneration of the town which is on the coast between between Minehead and the Quantocks.
After a big residential development hit the buffers, local community interest company the Onion Collective appointed Piers Taylor's practice in 2014 to come up with something that could serve the whole town. An early proposal included a tower with an external ramp that would allow people to "walk up to the sky".
LT Studio was subsequently appointed as landscape architect.
Taylor said the final scheme was designed to reflect the character of the harbourside in terms of colour, shape and material source. Some materials would be reused from the site, especially for paving.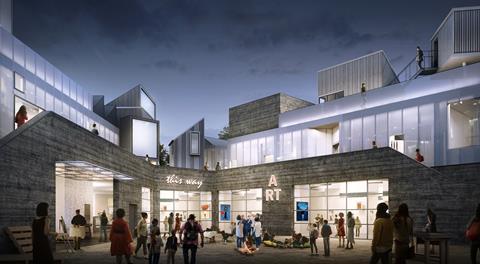 The public will be encouraged to walk through the scheme, with multiple entry points, and to linger in courtyards watching craftsmen and artists.
Peter Clegg, of Feilden Clegg Bradley who chaired the design review panel, said: "The exuberance, idiosyncrasy and charm carry the day and the scheme must go ahead just as it is. It is the result of an admirable community effort and is something unique and wonderful."
Piers Taylor, founder of the Invisible Studio, said it felt like one of the most important things the practice had been involved with and unlike any of their previous projects.
He said: "A set of well-considered, well-crafted buildings just wouldn't be enough here, and the architectural brief from the Onion Collective encouraged us to go beyond anything we'd conceived of before.
"At the same time, these buildings are utterly of this place – speaking of its quirkiness, its extraordinary geography, and the richness of coastal architecture in this part of the United Kingdom that includes Clevedon Pier.
"At the same time, I'm not sure we've ever worked on a scheme where the consequence of the buildings we make will be greater.
"They are the result of four years' research and consultation by a remarkable group of women – the Onion Collective CIC – who have demonstrated the enormous social and economic benefits the scheme will bring to this town."