Family home was also Michael and Patty Hopkins' original office
The high-tech house designed by Michael and Patty Hopkins for themselves in the 1970s has been listed at grade II*.
The Hopkins House, which is tucked between Victorian villas on Downshire Hill in Hampstead, north London, was built between 1975 and 1976 and was used by the couple as their office for the first decade of the practice they set up together.
The two-storey glass and lightweight steel house is built down a steep slope from the street and is entered via a metal footbridge.
Michael Hopkins had previously worked with Norman Foster, while Patty Hopkins (nee Wainwright) had her own small practice. They went on to win the RIBA Royal Gold Medal in 1994 and have been shortlisted for the Stirling Prize three times.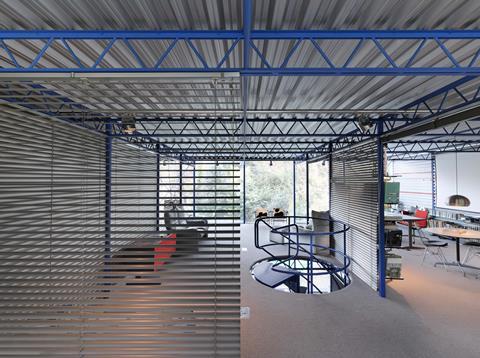 The design of the house was influenced by the Eames Case Study House of 1949, and can be seen as an evolution from Foster's IBM Pilot building in Cosham, near Portsmouth, on which Michael Hopkins worked.
In turn, the Hopkins House became the forerunner of the new practice's steel and glass buildings, such as those commissioned in the 1980s for Greene King in Bury St Edmunds, Schlumberger's headquarters in Cambridge, which is listed at II*, and Fleet Infant School for Hampshire County Council, which is listed at grade II.
The Hopkins House was listed this month by the DCMS on the advice of Historic England which said it was "designed with great elegance and economy of materials, refining and reducing techniques used for larger commercial buildings".
HE chief executive Duncan Wilson said: "The architects behind this innovative building showed the world what could be achieved within the confines of a restricted site and on a modest budget, and in this experimental work managed to design a combined home and office space that has stood the test of time and inspired other architects.
"We are delighted that this building, for which these two architects won numerous awards, is now on the National Heritage List for England."