Four-building Florida complex includes conical aquarium and planetarium
The newest addition to Miami's downtown Museum Park – designed by Grimshaw – has welcomed its first visitors.
Covering more than 23,000sq m, the Phillip and Patricia Frost Museum of Science – Frost Science for short and named after a US entrepreneur and philanthropist – is a four-building complex that includes a planetarium and a three-storey conical aquarium. Its project cost is $305 million – £235 million at current exchange rates.
Grimshaw said its response to the project brief had resulted in a mix of buildings that were "dynamic and varied", consciously linked to the outdoors, and which invited visitors to walk among them on an open-air atrium.
The bar-shaped buildings of the North and West Wings house the science museum proper and are clad in a faceted, pixelated geometrical texture that allows the passage of the sun to animate the buildings during daylight hours.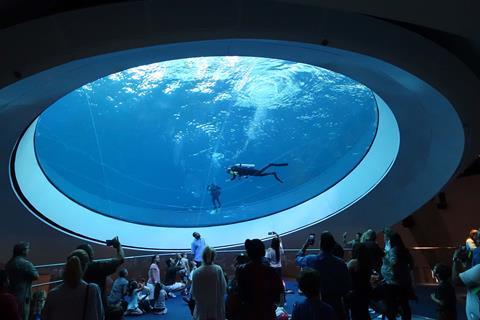 The aquarium is nestled between the wings and designed to appear like a water droplet when seen from above, and similar in form to the prow of a ship when viewed from the ground. The 500,000 US gallon conical tank has a 9.5m circular window at its base.
The museum's spherical planetarium completes the site, delivering a structure that contrasts the more rigid building massing of adjacent developments.
Grimshaw partner Vincent Chang said viewing points throughout the complex gave visitors chance to see exhibits – including live birds – in a context that highlighted their connection to Florida.
"It has been such a joy for our team to see first-hand visitors move throughout the building, simultaneously engaging with the exhibits and enjoying the spectacular views from the building's many open terraces," said Chang.
The museum opened earlier this month.