Proposal for Bethnal Green landmark includes moving protected mulberry tree
Grid has resubmitted proposals for the controversial redevelopment of the former London Chest Hospital in Bethnal Green.
The plans, which would see Crest Nicholson build 300 homes in the listed Victorian sanatorium and its grounds, were first submitted a year ago but have been revised after criticism by the GLA and council.
The scheme is contentious in part because it would involve digging up and replanting a mulberry tree. This is locally believed to be hundreds of years old, a claim supported by an arboriculturist employed by opponents of the development – but refuted by the developer.
Crest withdrew its application to move the tree after losing a judicial review but Grid's revised scheme, newly submitted to Tower Hamlets, places a block of flats on the site of the tree, meaning the decision will now fall to the council's planning committee.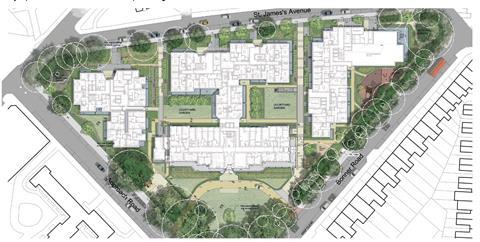 The new planning application reduces the number of flats from 341 and increases the gaps between the three new blocks, as well as reducing their footprint, breaking down their mass and removing a proposed double-height roof over the listed hospital.
The 6ha development will contain 230 private flats, 70 "combined affordable", 22 "intermediate" and 48 "affordable rented" in three new blocks of six to eight storeys, plus the converted hospital building.
Half will be single-aspect, 19 of them facing north-west.
Refurbishing the hospital's historic features and giving the public access to the front lawn, Crest's proposed new location for the mulberry tree, remain part of the proposals.
All 20th-century additions to the building, which ceased to be a hospital in 2015, will be demolished, including the octagonal outpatients block and modern cladding over the balconies to which TB patients were once confined day and night.
The back of the hospital, which Crest called "highly compromised", will also go, replaced by one of a number of what Crest has dubbed "memory facades".
"The new extended elevation to the rear of the hospital is a translation of the architecture of the front façade in a simpler contemporary manner contained between two bookend elevations designed and detailed in a traditional style evoking the memory of the former wings," said the design and access statement.
Crest concedes the proposals would "cause some harm" to the grade II hospital building but argue this is less than substantial, the test in the NPPF.
Heritage consultant is Montagu Evans. Van Bruggen Urbanism did the townscape and visual impact assessment. GVA is the viability consultant and Snap Dragon Consulting is the political consultant. The Landscape Partnership designed the landscaping.