Architect to create 'box-in-a-box' in Nine Elms resi block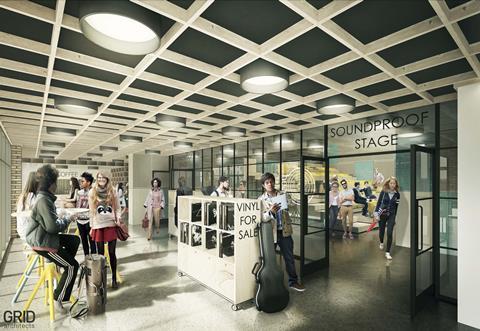 Grid Architects has been appointed to design a music academy at Nine Elms.
It will include a 110-seat performance space, teaching and practice rooms, radio and recording studios, a vinyl printing facility and offices.
The academy will be housed in a ground-floor double-height space in a block of flats in the second phase of Ecoworld Ballymore's Embassy Gardens development. Near the new US embassy, this was designed by Hal Architects and Arup and will feature a much-publicised transparent swimming pool suspended between two of the blocks.
Wandsworth's World Heart Beat Music Academy, a charitable organisation giving opportunities to disadvantaged young people, is currently housed in the first floor of a light industrial building in Southfields. It was picked to take over the new space by he developer and Wandsworth council from 42 organisations. It should open next year if it hits its £2m fundraising target.
Grid, which designed the Residence flats opposite the site, said it was the first time a tenant like this has been incorporated in a big residential development at Nine Elms and that it was technically challenging.
A spokesman said they would create a "box within a box" and deploy digital technology in both performance and recording.
"The community and education use adds activity and creative vitality. The concept is of a relaxed and flexible space that lends itself to multiple activities from a solo rehearsal to an ensemble recorded public performance," he added.
World Heart Beat founder Sahana Gero said: "Embassy Gardens is going to elevate us to a completely new level. It means that our concept for changing the lives of the next generation of raw talent through music education can become a reality for much greater numbers than we can reach currently."