Councillors recommended to back 291-home redevelopment of grade II-listed London Chest Hospital
Grid Architects' proposals to redevelop a disused Victorian hospital complex in east London as a 291-home residential development have been given a clean bill of health by planning officers.
But the much-reworked scheme for the grade II-listed London Chest Hospital in Bethnal Green is still being opposed by conservation group the Victorian Society and hundreds of local residents who are concerned about the heritage impact of the plans and the loss of trees at the 1.61ha site.
Grid's proposals for the hospital, near Victoria Park, involve the demolition of all but the building's original 1850s block, which will be converted into 50 apartments, and the 1892 Sanitation Tower. The remaining new homes would be delivered in three new blocks of up to eight storeys in the hospital grounds.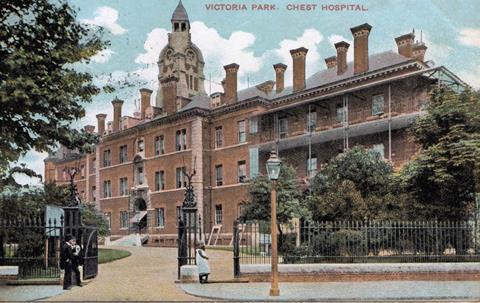 However the plans have evolved in design terms since the original application was lodged in November 2016, with the number of flats dropping from the originally proposed 341 and the proportion of affordable housing rising from 28% to 35%, measured by habitable rooms. A major revision to the proposals submitted last year saw plans dropped to introduce a two-storey replacement roof on to the original hospital building.
Grid is also keeping more elements the original buildings than had been planned in the first version of the plans – but the Victorian Society still opposes the scheme because of the proposed loss of its 1865 South Wing. The group also questions the justification for replacing the original building's roof, relocating chimneys and introducing new dormer windows.
Tower Hamlets council planning officers said a total of 412 written representations had been received from members of the public commenting on the scheme, all but three of which had been objections. They added that a 9,636-name petition had also been received objecting to proposals to relocate an ancient black mulberry tree to make way for the redevelopment.
Recommending the scheme for approval to members of the borough's strategic development committee tonight, they accepted the project would result in significant harm to the hospital building, but crucially – in planning terms – they insisted the harm would be "less than substantial".
"There would be some harmful impacts to the setting of the hospital building arising from the proximity and height of the proposed residential buildings, proposed within its curtilage," they said.
"The scheme would also result in less than substantial harm to the character and appearance of the Victoria Park Conservation Area as a result of the location, scale and appearance of the new residential buildings."
They added there was a risk that mulberry tree would not survive the proposed relocation, but said that in all cases the public benefits deliverable through the scheme outweighed the risks and disbenefits.