Green light for first phase of Church Street regeneration
A 171-home development designed by Flanagan Lawrence has been approved by Westminster council as the first phase of its 20-year regeneration programme for the Church Street area.
The scheme, which comprises two six-storey residential blocks and a collection of townhouses, will be built on the site of a former railway sidings and coal storage yard off Luton Street that was originally built to serve the nearby Marylebone Station.
The main site currently has 14 vacant homes, two empty community buildings and a row of lock-ups used by traders working at Church Street market. Much of it is still bounded by a railway wall, which will be retained as part of the Flanagan Lawrence scheme. A further three townhouses will be built on a former car park site off Fisherton Street
Flanagan Lawrence's proposals were drawn up for the council and its arm's-length management organisation CityWest Homes in partnership with developers Linkcity, which is part of the Bouygues Group.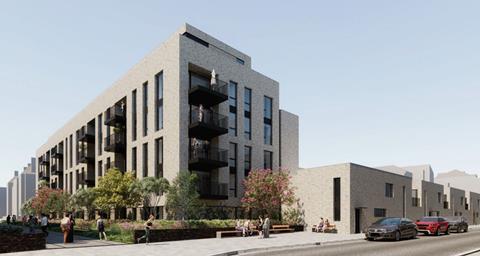 The bulk of the new homes approved by city councillors on Tuesday night will be delivered in the two six-storey blocks, one of which is designated for "affordable" homes. The main entrances to the blocks will face a new "green link" crossing the site from north to south.
Westminster said it expects building to get under way later this year. The scheme would provide £3m of investment in the public realm and the provision of a new sports hall and community facility.
City council housing lead Councillor Rachael Robathan said 35% of the new homes would be "affordable", and the majority of those would be social-rent homes owned by the authority.
"The Luton Street scheme demonstrates that we can deliver more good quality and truly affordable housing in the heart of London," she said.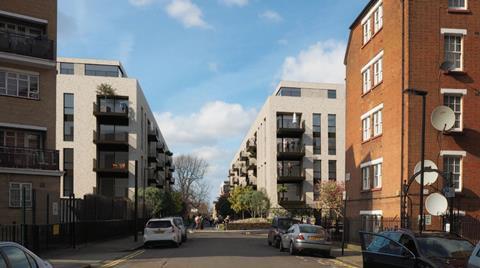 "The development has been a long time in the making involving many years of close engagement with local residents and has very much been developed with the needs of local families in mind.
"The council is committed to enabling better neighbourhoods with new and high-quality housing supported by the right infrastructure."
The wider Church Street regeneration envisages creating 1,750 new homes and a new cultural quarter over the next 15-20 years.