ACM panel with fire retardant core and PIR foam insulation 'does not meet building regulations guidance'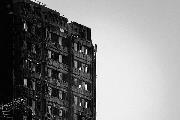 A fire retardant version of the type of panels used on the Grenfell Tower refurbishment has failed the latest round of government commissioned safety tests.
The test was carried out by BRE on behalf of the communities department on a wall cladding system consisting of aluminum composite material (ACM) panels featuring a fire retardant polyethylene core (PE) and PIR foam insulation. The communities department said the cladding system "does not meet current building regulation guidance".
There are 13 buildings over 18m tall known to have this combination of cladding materials. Landlords are being urged to take remedial action to ensure the safety of residents.
This is the third in a series of six full scale tests on a variety of combinations of cladding materials. Three different types of ACM cladding are being combined with two different types of insulation to test the combustibility performance.
Each test involves building a nine-metre-high demonstration wall with a complete cladding system including cladding panels, insulation and cavity barriers. This is then subjected to a replica of a severe fire inside a flat as it spreads out of a window, to see whether it meets the requirement to resist vertical fire spread.
The latest test gave the combination of fire retardant ACM panels and PIR foam insulation a category 2 rating, which means it has some limited flame retardant properties but does not meet the requirement for limited combustibility set out in Part B, the building regulation covering fire safety.
The first test was on a combination of ACM panels with a non-fire retardant core and PIR foam insulation. This failed the test and was given a category 3 rating, which means it has no flame retardant properties.
On Tuesday communities secretary Sajid Javid wrote to the former residents of Grenfell Tower promising to have all those affected in permanent new homes within the next 12 months.
Javid's letter also confirmed that the fire safety testing programme was ongoing and said the results of which are making it clear that further understanding is needed of how current building regulations and fire safety works to make them as effective as possible.
"We appreciate this cannot undo what has already happened, but the government is working hard to ensure it never happens again," he added.
Meanwhile, Guy's and St Thomas's NHS Trust has reported that Guy's hospital new cancer centre, which opened last year, has a cladding system similar to those that failed BRE's second round of tests.
Although the Trust said, following advice from the likes of the London Fire Brigade, the building is safe for continued occupation because of the extensive fire protection systems it has in place.
Amanda Pritchard, chief executive at Guy's and St Thomas' NHS Foundation Trust, said: "We will carry out remedial work including the removal of cladding to ensure that we comply with the new government advice, to reassure our patients and the public and to make sure that the Cancer Centre continues to reflect the highest safety standards.
"This will be done as quickly as possible in a planned and measured way, with work likely to start this autumn. The safety of our patients, visitors and staff continues to be our highest priority."