Four new galleries open at South Kensington museum
David Kohn Architects' V&A Photography Centre, which spans four new galleries covering the entire history of the medium, opens this week.
Director Tristram Hunt said the transfer of the historic Royal Photographic Society collection provided the catalyst for a dramatic reimagining of photography at the V&A, with its offering now "seamlessly" spanning Victorian-era daguerreotypes to cutting-edge digital work.
Visitors enter the new first-floor Photography Centre through an installation featuring more than 150 cameras from the past 160 years, while a nearby interactive camera-handling station offers visitors an understanding of how photographers view the world through their equipment.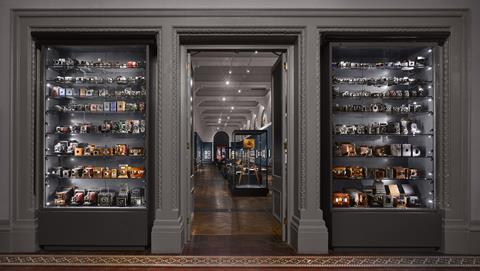 Inside the gallery, focused sections look at a series of collections and collectors, including an important group of William Henry Fox Talbot's cameras and prints and 1850s fine art photographs collected by Chauncey Hare Townshend, a friend of Charles Dickens.
Elsewhere, there is a selection of some of the most significant photojournalism of the 20th-century collected by Magnum Photos, while a stereoscope viewer gives an immersive 3D experience of Crystal Palace alongside some of the first photographs ever taken of Japan.
The Photography Centre also features a flexible multimedia projection and lecture space named "the Dark Tent" and inspired by 19th-century photographers' travelling darkrooms. It screens specially commissioned films revealing early photographic processes and a slideshow of rarely seen magic lantern slides.
The centre opens to the public on October 12.