Collaboration with German architect saw one of city's 'most expensive' belle époque homes restored
David Kohn Architects has converted a listed belle époque interior into the Berlin office of a property developer.
The UK architect, who won BD's YAYA young architect award in 2010, was working with German practice Nord Studio on the Tempelhofer Ufer project which cost €693/sq m.
The grand stucco-fronted courtyard building facing the Landwehr Canal in Kreuzberg was built in 1881 as a villa for a wealthy timber merchant. At the time it was one of Berlin's most expensive residential buildings.
As well as a home it was intended as a place for entertaining clients so the piano nobile contained attractive timber finishes in its grand, high-ceilinged panelled living rooms.
David Kohn Architects (DKA) and Nord Studio said the 332sq m project, for the developer Euroboden, was conceived as a series of domestic landscapes with echoes of English and German architectural history and the "productive domesticity" of Sir John Soane.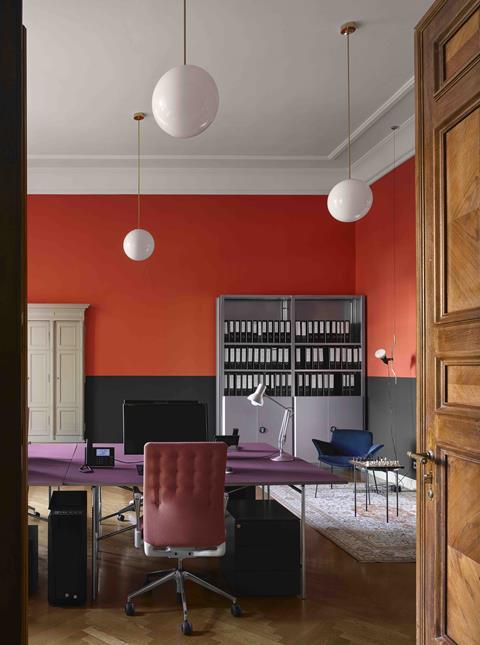 They have restored the listed rooms and their important historic features while also creating flexible spaces beyond which can be used for daily desk work, meetings, public events and displays – rather like its original function.
The rooms and spaces beyond the listed interiors have been given a bold contemporary treatment with two-tone colour schemes suggestive of wainscoting and providing strong contrasts between and different atmospheres within each space. Loose furniture specified by the two architects is arranged in social settings familiar from 19th-century domestic interiors.
Kohn said the design team found historic precedents for this blend of public and private space in the merchant's home and Soane's architecture: "city interiors" with a mixture of large principal rooms with a predominantly public purpose alongside clearly demarcated private spaces beyond.