RIBA student councillors write open letter to heads of schools
The expense of university field trips, printing and materials needed for models is pushing architecture students into financial hardship, student members of the RIBA Council are warning today.
They have written an open letter to all the heads of architecture schools [see below] urging them to provide alternative ways of assessing students or to offer more generous subsidies.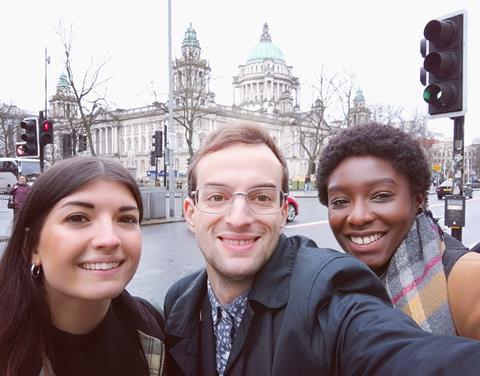 The three said they were shocked by the stories of suffering they read while assessing hundreds of applications to the RIBA student hardship fund.
"The number of applications was significant and the degree of hardship striking," said Simeon Shtebunaev, student representative on RIBA Council and joint vice president for students and associates.
"All three of us were emotionally touched by the hard decisions that we had to make. However, what not one of us expected was the surprise and frustration we experienced when reading some of the circumstances our fellow students have found themselves in."
Three main trends emerged as major causes of financial hardship – the cost of field trips, the cost of large-scale models and cumulative printing costs.
"In some cases, correspondence was attached showing the 'compulsory' nature of such high-cost items clearly communicated by the staff to students. In many cases costs were not subsidised or capped," said Shtebunaev.
"Such practices restrict social mobility, disenfranchise poorer students, cause mental health issues and ultimately lead to lower quality of education."
He said they were keen to understand the scale of the problem and invited students who have suffered to get in touch.
The trio will raise the issue at the RIBA's education committee and vowed to make this the start of a year-long campaign to reduce inequality.
He added: "We will aim to promote a RIBA policy of fully capped and costed courses within architectural education and ban field trips and large-scale models as compulsory requirement in architectural modules where alternative provisions or subsidies are not ensured."
He praised those universities that already offer alternatives to expensive field trips and allow digital submissions and presentations without it counting against students.
Open letter
Preventing financial hardship in architectural education
To: The Heads of Schools delivering RIBA accredited courses
It is our belief that architectural education should not be a cause for financial hardship. It is our belief that schools providing architectural education have pastoral responsibility to ensure that their courses do not push students into financial hardship and to provide suitable provisions to support and prevent financial hardship. It is our belief that high-cost modules such as field trips as well as large scale models and unnecessary volumes of printing should not be compulsory, should have an alternative assessment provided and/or subsidised by the university.
Therefore:
We call on heads of schools to respond to our call and publish details outlining their arrangements for school field trips, large-scale models and cumulative printing in their course and module structure. We call on heads of schools to publish details about alternative assessment provisions and/or subsidised programmes.
We call on heads of schools to ensure that compulsory requirements within degrees of architectural education are fully costed and that there is no excessive financial burden placed on students of architecture.
This letter presents our personal views as individuals and recent students/graduates. We hope that all schools will respond to our call before the beginning of the next academic year (2018-2019). We will work to ensure that the practice of shifting the financial burden for study costs on the students is eradicated.
Signed:
-Abigail Patel, student representative on RIBA Council, North West regional council
-Selasi Setufe, associate representative on RIBA Council, co-VP students and associates
-Simeon Shtebunaev, student representative on RIBA Council, co-VP students and associates