Firm, which teamed up with Austin-Smith Lord, chosen for its 'clarity, ambition and originality'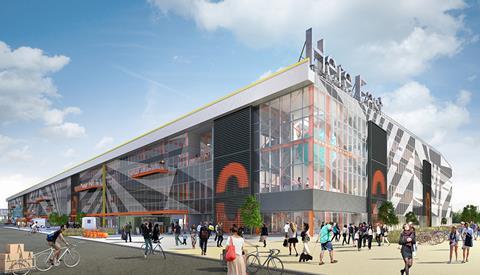 The V&A has appointed a team from New York-based architect Diller Scofidio & Renfro (DS&R) together with Austin-Smith Lord to lead the design of its new collection and research centre at Here East in London's Queen Elizabeth Olympic Park.
The archive centre will extend public access to thousands of objects from the V&A's collections of art, design and performance not currently on display.
DS&R is known for its work on the High Line in Manhattan and for winning the competition for the planned new London symphony hall, currently the home of the Museum of London and part of the City's cultural mile initiative.
The competition for the new V&A collection and research centre saw five practices shortlisted. The other firms were 6a; Hoskins Architects; Haworth Tompkins with AOC; and Robbrecht en Daem and DRDH.
The V&A said DS&R's proposal was selected "for its clarity, ambition and originality, communicating a vision that will transform engagement with, and access to, the V&A's collections".
V&A deputy director Tim Reeve said: "The field for this design competition was incredibly strong, featuring many of the best architecture practices from the UK, Europe and around the world."
Announcing DS&R as the winner he said: "They clearly demonstrated their creativity and skill not only as transformative designers in the arts and museums world, but also as thought leaders in how audiences engage with objects and how collections can be made more publicly accessible."
DS&R partner Elizabeth Diller said: "It is thrilling to contribute to a new wave of rethinking how London's cultural institutions can reconnect to the city - from the cultural mile to the developments emerging in Queen Elizabeth Park.
"We're excited to start experimenting with the V&A on this new model for collection storage and public display at Here East."