Procuratie Vecchie on St Mark's Square will be opened to public for first time in half a century
David Chipperfield has been appointed to carry out major repairs and alterations to one of the most significant buildings in Venice.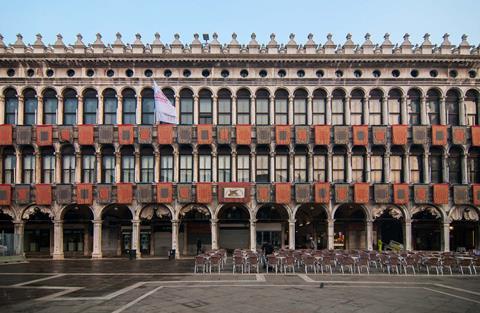 The 16th-century Procuratie Vecchie, which runs the full length of the north side of St Mark's Square, will be opened to the public for the first time in 500 years when the projects finishes in 2020.
The architect's Milan office was picked after an international competition run by the Italian insurance company Generali to reconfigure the building as the headquarters for its new social foundation, The Human Safety Net.
Chipperfield described the project – which will see all materials transported by canal – as "a piece of surgery".
"This is a building with a monumental presence in a monumental square which the whole world loves," he told the Daily Telegraph. "It is part of the only big civic space in Venice. It's got an amazingly theatrical presence."
The building, which was designed by Jacopo Sansovino in the 1530s is Venice's longest building at 152m. It still has historic frescoed walls and decorated ceilings.
Its monumental façade later established the classical language for the subsequent developments on the southern and eastern sides of St Mark's Square.
But behind the façade centuries of modifications from multiple occupancy have severely compromised its internal structure. The practice said the project would reunify the interiors and introduce clarity to the building, establishing suitable spaces for the foundation, as well as improving circulation.
Chipperfield is also involved in a longer-term plan to create a public route through the Procuratie Nuove and over a small canal to the long-abandoned Royal Gardens on the Bacino di San Marco waterfront, the restoration of which is also being funded by Generali.