Stirling Prize winners to work with long-time collaborator Marcus Taylor
Caruso St John Architects and the artist Marcus Taylor have been picked to represent the UK at next year's Venice Biennale.
They were picked from a shortlist of four by a panel chaired by Sarah Mann, director of architecture, design and fashion at the British Council.
The winning proposal is called Island and responds to the theme of Freespace which was set by Biennale curators Yvonne Farrell and Shelley McNamara of Grafton Architects.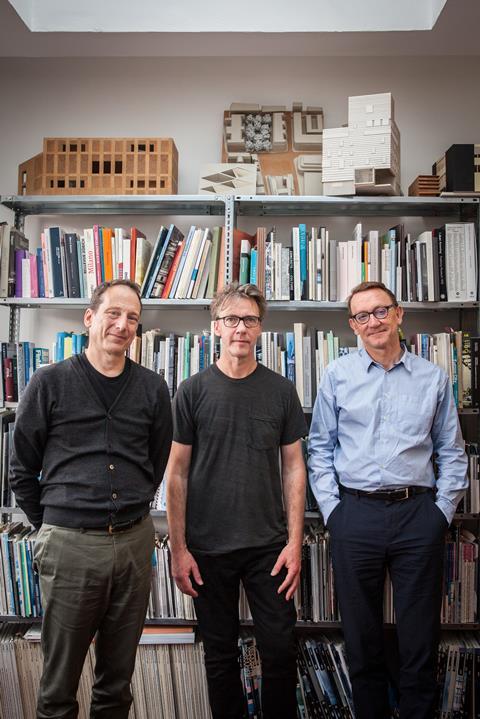 It engages with current political themes and was submitted with the following quote from Shakespeare's The Tempest: "Be not afeard; the isle is full of noises; Sounds and sweet airs, that give delight and hurt not."
Peter St John, partner at Caruso St John Architects, said it was an honour to be chosen.
"In the year before Brexit, we plan to transform the building into a generous public space that can be a popular meeting point within the gardens of the Biennale," he said.
Adam Caruso and Peter St John won the Stirling Prize in 2016 for their Newport Street Gallery for artist Damien Hirst. They have worked on several major arts projects including Tate Britain Millbank and Nottingham Contemporary.
They have collaborated with Marcus Taylor, originally from Northern Ireland, on several projects, including a shortlisted submission for the UK Holocaust Memorial. Taylor won a RIBA award earier this year for Redshank, a house on stilts perched above Essex marshland which he worked on with Lisa Shell Architects.
Mann said: "The open call generated a strong field of proposals but the panel was unanimous in its selection. The uncertainties that exist in today's world give the British Pavilion a new imperative and Island promises to be a thought-provoking installation that I am confident will spark debate."
The British Council has been responsible for the British Pavilion in Venice since 1937, showcasing the UK's artists, architects, designers and curators.