Yvonne Farrell and Shelley McNamara announce their collaborators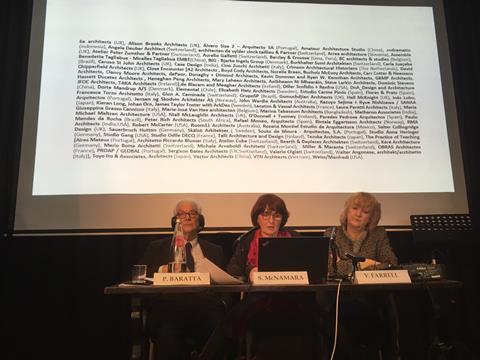 Alison Brooks, David Chipperfield, Peter Zumthor, BIG and Alvaro Siza are among the big names that have been invited to collaborate with Yvonne Farrell and Shelley McNamara at this year's Venice Biennale.
The founders of Grafton have set "free space" as their theme and wrote a manifesto outlining their aims (see box below).
They said: "We are hugely appreciative of the enormous dedication and passion invested by the participants. It has been a revelation to witness the variety of architectural responses to the vast differences in culture, climatic conditions, economies, construction techniques, received from architects throughout the world.
"It is wonderful to think that for months, architects around the globe are thinking and making responses to the Freespace Manifesto, in order to try to convey the meaning of their work, trying to dig deeply so as to reveal, to lay bare, the Freespace ingredient embedded in their work.
"We have included participants from all around the world. To those who have not been invited, who are also our respected colleagues, we would like to say that we have chosen 'samples' that hopefully express architectural values shared with you and to which you have contributed."
Participants
1.
6a architects (London, UK)
Tom Emerson; Stephanie Macdonald; John Ross; Owen Watson
2.
Alison Brooks Architects (London, UK) Alison Brooks
3.
Álvaro Siza 2 – Arquitecto, SA (Porto, Portugal) Álvaro Siza Vieira
4.
Amateur Architecture Studio (Hangzhou, China) Wang Shu; Lu Wenyu
5.
andramatin (Jakarta, Indonesia) Andra Matin
6.
Angela Deuber Architect (Chur, Switzerland) Angela Deuber
7.
architecten de vylder vinck taillieu (Ghent, Belgium) Jan de Vylder; Inge Vinck; Jo Taillieu
8.
Arrea architecture (Ljubljana, Slovenia) Maruša Zorec
9.
Assemble (London, UK)
Jane Issler Hall; Mathew Leung; Alice Edgerley; Adam Willis; Fran Edgerley; Amica Dall; Giles Smith; James Binning; Paloma Strelitz; Lewis Jones; Joseph Halligan; Louis Schulz; Maria Lisogorskaya; Karim Khelil; Anthony Engi Meacock
10.
Atelier Peter Zumthor & Partner (Haldenstein, Switzerland) Peter Zumthor
11.
Aurelio Galfetti (Lugano and Bellinzona, Switzerland)
12.
Barclay & Crousse (Lima, Peru) Sandra Barclay; Jean Pierre Crousse
13.
BC architects & studies (Brussels, Belgium)
Ken De Cooman; Nicolas Coeckelberghs; Wes Degreef; Laurens Bekemans
14.
Benedetta Tagliabue Miralles Tagliabue EMBT (Barcelona, Spain; Shangai, China) Benedetta Tagliabue; Elena Nedelcu; Joan Callís
15.
BIG Bjarke Ingels Group (New York, USA; Copenhagen, Denmark; London, UK)
Bjarke Ingels; Sheela Maini Søgaard; Finn Nørkjær; Thomas Christoffersen; Kai Uwe Bergmann; Andreas Klok Pedersen; David Zahle; Jakob Lange; Beat Schenk; Daniel Sundlin; Brian Yang; Jakob Sand
16.
Burkhalter Sumi Architekten (Zürich, Switzerland) Marianne Burkhalter; Christian Sumi
with
Marco Pogacnik (Venice, Italy)
17.
Carla Juaçaba (Rio de Janeiro, Brazil)
18.
Caruso St John Architects (London, UK) Adam Caruso; Peter St John
19.
Case Design (Mumbai, India) Anne Geenen; Samuel Barclay
20.
Cino Zucchi Architetti (Milan, Italy) Cino Zucchi
21.
Crimson Architectural Historians (Rotterdam, The Netherlands)
Ewout Dorman; Michelle Provoost; Cassandra Wilkins; Wouter Vanstiphout; Simone Rots; Annuska Pronkhorst
22.
David Chipperfield Architects (London, UK; Berlin, Germany; Milan, Italy; Shanghai, China) David Chipperfield; Alexander Schwarz; Martin Reichert; Christoph Felger; Eva Schad; Harald Müller
23.
de Blacam and Meagher Architects (Dublin, Ireland; Ibiza, Spain) Shane de Blacam; John Meagher
24.
Diller Scofidio + Renfro (New York, USA)
Elizabeth Diller; Charles Renfro; Ricardo Scofidio; Benjamin Gilmartin
25.
DnA_Design and Architecture (Beijing, China) Xu Tiantian
26.
Dorte Mandrup A/S (Copenhagen, Denmark) Dorte Mandrup; Frants Nielsen
27.
Elemental (Santiago, Chile)
Alejandro Aravena; Gonzalo Arteaga; Juan Cerda; Diego Torres; Victor Oddo
28.
Elizabeth Hatz Architects (Stockholm, Sweden) Elizabeth Hatz
29.
Estudio Carme Pinós (Barcelona, Spain) Carme Pinós
30.
Flores & Prats (Barcelona, Spain) Eva Prats; Ricardo Flores
31.
Francesca Torzo Architetto (Genova, Italy) Francesca Torzo
32.
Gion A. Caminada (Vrin Cons, Switzerland)
33.
GrupoSP (São Paulo, Brazil) Alvaro Puntoni; Joao Sodre
34.
Gumuchdjian Architects (London, UK) Philip Gumuchdjian
35.
Hall McKnight (Belfast and London, UK) Alastair Hall; Ian McKnight
36.
Inês Lobo, Arquitectos (Lisbon, Portugal) Inês Lobo; João Rosário
37.
Jensen og Skodvin Arkitekter AS (Oslo, Norway)
Jan Olav Jensen; Børre Skodvin; Torunn Golberg; Torstein Koch
38.
John Wardle Architects (Melbourne, Australia)
John Wardle, Stefan Mee, Meaghan Dwyer, Bill Krotiris, Jane Williams
39.
Kazuyo Sejima + Ryue Nishizawa / SANAA (Tokyo, Japan) Kazuyo Sejima; Ryue Nishizawa
40.
Kieran Long; Johan Örn; James Taylor Foster (Stockholm, Sweden) with
ArkDes (Stockholm, Sweden)
41.
Lacaton & Vassal Architects (Paris, France) Anne Lacaton; Jean Philippe Vassal
42.
Laura Peretti Architects (Rome, Italy) Laura Peretti
43.
Maria Giuseppina Grasso Cannizzo (Vittoria – Ragusa, Italy)
44.
Marie José Van Hee architecten (Ghent, Belgium) Marie José Van Hee
45.
Marina Tabassum Architects (Dhaka, Bangladesh) Marina Tabassum
46.
Matharoo Associates (Ahmedabad, India) Gurjit Singh Matharoo
47.
Michael Maltzan Architecture (Los Angeles, USA) Michael Maltzan
48.
Niall McLaughlin Architects (London, UK) Niall McLaughlin
49.
O Donnell + Tuomey (Dublin, Ireland) John Tuomey; Sheila O Donnell
50.
Paredes Pedrosa Arquitectos (Madrid, Spain) Angela Garcia de Paredes; Ignacio G. Pedrosa
51.
Paulo Mendes da Rocha (São Paulo, Brazil)
52.
Peter Rich Architects (Johannesburg, South Africa) Peter Rich
53.
Rafael Moneo, Arquitecto (Madrid, Spain) Rafael Moneo
54.
Rintala Eggertsson Architects (Oslo and Bodø, Norway) Dagur Eggertsson; Vibeke Jensen; Sami Rintala
55.
RMA Architects (Mumbai, India; Boston, USA)
Rahul Mehrotra; Nondita Correa Mehrotra; Robert Stephens; Payal Patel
56.
Robert McCarter, Professor of Architecture (St. Louis, Missouri, USA) Robert McCarter
57.
Room11 Architects (Hobart, Tasmania, Australia) Thomas Bailey; Nathan Crump; Megan Baynes
58.
Rozana Montiel Estudio de Arquitectura (Mexico City, Mexico) Rozana Montiel
59.
Salter Collingridge Design (London and Ludlow, UK) Peter Salter; Fenella Collingridge
60.
Sauerbruch Hutton (Berlin, Germany)
Matthias Sauerbruch; Louisa Hutton; Juan Lucas Young
61.
Skälsö Arkitekter (Visby and Stockholm, Sweden)
Joel Phersson; Erik Gardell; Lisa Ekström; Mats Håkansson; Axel Wolgers
62.
Souto Moura Arquitectos, S.A. (Porto, Portugal) Eduardo Souto de Moura
63.
Studio Anna Heringer (Laufen, Germany) Anna Heringer
64.
Studio Gang (Chicago, New York and Los Angeles, USA) Jeanne Gang
65.
Studio Odile DECQ (Paris, France) Odile Decq
66.
Talli Architecture and Design (Helsinki, Finland) Pia Ilonen; Minna Lukander; Martti Lukander
67.
Tezuka Architects (Tokyo, Japan) Takaharu Tezuka; Yui Tezuka
68.
Toyo Ito & Associates, Architects (Tokyo, Japan) Toyo Ito
69.
Vector Architects (Beijing, China) Gong Dong
70.
VTN Architects (Hochiminh City, Vietnam) Vo Trong Nghia
71.
Weiss/Manfredi (New York, USA) Marion Weiss; Micheal Manfredi
Manifesto
FREESPACE describes a generosity of spirit and a sense of humanity at the core of architecture's agenda, focusing on the quality of space itself.
FREESPACE focuses on architecture's ability to provide free and additional spatial gifts to those who use it and on its ability to address the unspoken wishes of strangers.
FREESPACE celebrates architecture's capacity to find additional and unexpected generosity in each project - even within the most private, defensive, exclusive or commercially restricted conditions.
FREESPACE provides the opportunity to emphasise nature's free gifts of light - sunlight and moonlight, air, gravity, materials - natural and man-made resources.
FREESPACE encourages reviewing ways of thinking, new ways of seeing the world, of inventing solutions where architecture provides for the well being and dignity of each citizen of this fragile planet.
FREESPACE can be a space for opportunity, a democratic space, un-programmed and free for uses not yet conceived. There is an exchange between people and buildings that happens, even if not intended or designed, so buildings themselves find ways of sharing and engaging with people over time, long after the architect has left the scene. Architecture has an active as well as a passive life.
FREESPACE encompasses freedom to imagine, the free space of time and memory, binding past, present and future together, building on inherited cultural layers, weaving the archaic with the contemporary.
With the theme of Freespace, the Biennale Architettura 2018 will present for public scrutiny examples, proposals, elements - built or unbuilt - of work that exemplifies essential qualities of architecture which include the modulation, richness and materiality of surface; the orchestration and sequencing of movement, revealing the embodied power and beauty of architecture.
The Exhibition will have a spatial, physical presence of a scale and quality, which will impact on the visitor, communicating architecture's complex spatial nature.
The Exhibition invites emotional and intellectual engagement of the many who come to the Biennale in order to understand architecture more fully, to stimulate discussion on core architectural values and to celebrate architecture's proven and enduring contribution to humanity.
When Jørn Utzon thinks about a concrete and tiled seat at the entrance of Can Lis, Majorca, it is moulded perfectly to the human body for comfort and pleasure. Spatially, it is a 'word' of greeting, of welcome.
Angelo Mangiarotti and Bruno Morassutti 'say' the same thing at the entrance to 24 Via Quadronno, Milan where a gently sloping path, with a seat at the entrance threshold 'holds' you and welcomes you home from the city.
Lina Bo Bardi raised the museum of modern art in Sao Paolo in order to make a 'belvedere' for the citizens to overlook the city.
The Medici Palace in Florence represents power and wealth but the stone seat which forms part of the solid façade almost turns the building inside out. The solid wall becomes the enclosing wall of the public space. What is solid seems outward looking and generous.
We believe that everyone has the right to benefit from architecture. The role of architecture is to give shelter to our bodies and to lift our spirits. A beautiful wall forming a street edge gives pleasure to the passer-by, even if they never go inside. So too does a glimpse into a courtyard through an archway; or a place to lean against in the shade or a recess which offers protection from the wind and rain.
We are interested in going beyond the visual, emphasizing the role of architecture in the choreography of daily life.
We see the earth as Client. This brings with it long-lasting responsibilities. Architecture is the play of light, sun, shade, moon, air, wind, gravity in ways that reveal the mysteries of the world. All of these resources are free.
It is examples of generosity and thoughtfulness in architecture throughout the world that will be celebrated in the 16th International Architecture Exhibition. We believe these qualities sustain the fundamental capacity of architecture to nurture and support meaningful contact between people and place. We focus our attention on these qualities because we consider that intrinsic to them are optimism and continuity. Architecture that embodies these qualities and does so with generosity and a desire for exchange is what we call Freespace.
We invite all participants and every national pavilion to bring to Venice their Freespace, so together we may reveal the diversity, specificity and continuity in architecture based on people, place, time, history, to sustain the culture and relevance of architecture on this dynamic planet.»
"A society grows great when old men plant trees whose shade they know they shall never sit in", Greek Proverb.
Yvonne Farrell and Shelley McNamara, Curators of the Biennale Architettura 2018