Biennale showcases work by Foster, Brooks, Chipperfield, Ingels, Libeskind - and the Smithsons
Work by some of the biggest names in architecture has gone on show at the Venice Biennale.
In the main biennale, architects including Alison Brooks, 6a, BIG and David Chipperfield have all been invited to create installations based on the theme Freespace which was set by this year's curators, curated by Shelley McNamara and Yvonne Farrell of Ireland's Grafton Architects.
Peter and Alison Smithson are also represented, with an exhibition in the V&A's Pavilion of Applied Arts. Outside, a three-storey, eight-ton section of the original façade of Robin Hood Gardens has been reassembled on a scaffold designed by Arup, who engineered the original building, with muf architecture/art, who first proposed the V&A's acquisition of the fragment. Visitors can stand on an original section of a "street in the sky". Just after the Poplar housing project had been completed the Smithsons exhibited it at Venice, describing its construction as a ruin in reverse. This is now the title of the exhibition on its destruction 40 years later.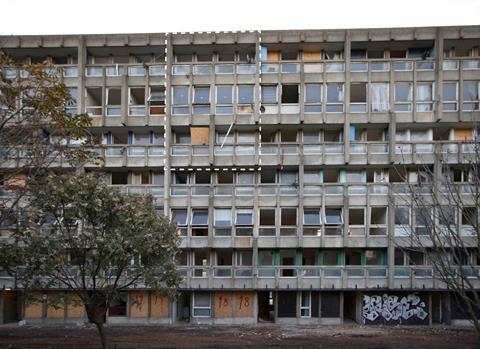 Elsewhere, on the Venetian island of San Giorgio Maggiore, Norman Foster has unveiled a chapel as part of the Vatican's first foray into the biennale. Ten architects were commissioned to create chapels which are collectively the Vatican's national pavilion.
Foster's consists of a tensegrity structure of cables and masts – originally inspired by the shape of crosses – wrapped by a wooden latticework.
Foster said: "The project started with the selection of the site. On a visit to San Giorgio Maggiore, close to Palladio's magnificent church and the Teatro Verde, I found a green space with two mature trees beautifully framing the view of the lagoon. It was like a small oasis in the big garden, perfect for contemplation.
"Our aim was to create a small space diffused with dappled shade and removed from the normality of passers-by, focused instead on the water and sky beyond – a sanctuary."
Meanwhile, in the Giardini Marinaressa, Daniel Libeskind has created a tower called Facing Gaia to address issues of climate, time and space. It is part of the fourth Time Space Existence exhibition which runs parallel to the biennale and also features work by Kengo Kuma, Fumihiko Maki, Moshe Safdie, MVRDV, Peter Eisenman and Odile Decq among others.
Decq led a #MeToo flashmob protest during Friday's vernissage preview against "pervasive prejudices and disrespectful behaviours" which she said were endemic in architecture.
The biennale opened to the public at the weekend and runs until November 25.